2014 Novak Offroad Challenge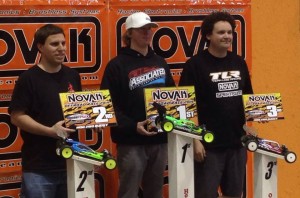 Chad Karstens and Mason Fuller win at the 2014 Novak Offroad Challenge with JConcepts
Race Reporter: Chad Karstens
This past weekend I traveled over to the Hobby Plex in Omaha Nebraska for the Novak Offroad Challenge. With 190 entries this race weekend was competitive but still relaxed. I wasn't really sure what the track was going to do over the coarse of the weekend so I practiced with both the B5 and the B5M on Friday.

The mid motor was really good in the morning when the track still had moisture but I felt the rear motor was the better car in the afternoon once the track dried out. We ran three rounds of qualifying using two out of three with qual points. I actually used both cars throughout the day. I ran the mid motor during the first round and the rear motor for the last two rounds winning the last round.
I qualified second behind local TLR driver Alex Sturgen. My B44.2 was amazing all day as I was able to win two of the three rounds locking up the TQ. On Sunday they ran two car bumps with single eight minute A-Mains.
The weather outside was going to be cold and rainy so I decided to switch back to the B5M thinking the track would hold moisture all day. Alex crashed on the first lap giving me a decent lead to start the race. I made a mistake at the six minute mark allowing another local driver, Derek Wood to take the lead. We had a great battle for a couple of laps but I was able to make the pass and pull away during the last lap to take the win.
Next up was the 4wheel main. I was probably more confident going into this main than I have been any other main in a long time. My B44.2 was amazing…The only problem was that I wasn't. I crashed early and went to the back of the pack. I charged through the pack and made the pass for second then crashed again. Repeat, Repeat, Repeat. I passed the same guy for second place four times while the leader pulled away. I wanted to sweep the weekend so bad that I drove over my head and eventually crashed myself out of the race. I am still super bummed with my performance because that race was mine to win. I'm not going to forget that race for a while.
It was still a fun race weekend and I did win the 2wheel championship so I can't hang my head to low but man I wanted that 4wheel race. Once again, JConcepts Dirt Webs in Green compound were the tire of choice all weekend.
Mason Fuller also had a great weekend at the Novak race. Mason TQ'd Stock Buggy and went on to take the win also running JConcepts Dirt Webs in Green.