2014 Keilor Cup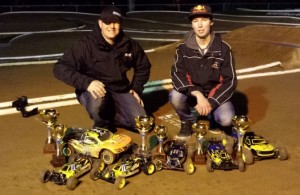 JConcepts' Munday & Bonetti Win Victorian Drivers Series in Melbourne
Ray Munday (2wd Open and 2wd SCT) and Glen Bonetti (Stadium Truck) have sealed victory in their classes for the 2014 Victorian Drivers Series for JConcepts with 1 round to go after winning the Keilor Cup on the weekend.
Date: 10 August 2014
Event: Keilor Cup (Round 3 of Victorian Drivers Series)
Track: Keilor, Melbourne (www.keilorrc.org.au)
Weather: 7~11C, Overcast / Showers
Classes: 1/10 Electric Off-Road. 170 Entries.
The 3rd round of the Victorian State Series was held at the historic Keilor club in Melbourne. With a huge field of 170 entries for a 1 day event and inclement winter weather it was a long day for all racers with several rain showers passing throughout the day, making tyre and setup choice difficult as the track conditions were different almost every round. The club worked very hard to squeeze 3 rounds of qualifying and 3 rounds of A finals in, with only the last 2 races being run under lights. The entry list was deep with many previous national title holders racing. JConcepts was well represented with Ray Munday, Ashley Peeler, Glen Bonetti in the open classes, John Watkins in Stadium Truck and Scott Giles in the stock class.

The JConcepts team had a successful weekend, taking multiple TQs and wins against a national level field. With the variable track conditions, tyre choice was critical and the team worked closely all day using Flip Outs when the track was wet, with Green 3Ds proving to be the tyre of choice when it started to dry and a groove started to form.
In 2wd Open, Ray TQ'd and took out A1 and A2 with his JConcepts equipped B5M to remain unbeaten in 2wd this year. He was pressured hard by Glen Bonetti (also using a JC equipped B5M) in both finals, Glen winning A3 to seal 2nd overall. Ray was using the JC Silencer B5M body and JC 6.5" Hi-Clearance wing, JC Titanium front axles, JC Ultra alloy wheel hexes, JC Fin turnbuckles, JC Carbon battery brace and JC Mono wheels to beat the competition. With 3 wins out of 3 starts, Ray Munday is the 2014 2wd Open Victorian Drivers series champion with his JConcepts / Associated / Novak B5 buggies!
In 4wd Open, Glen Bonetti TQ'd but in the finals it was Sam Wells from Tasmania (XRay) who drove fantastically in A1 and A2 for his first major win. Glen and Ray pushed Sam hard in A1 and A2 and then battled it out for A3, Ray taking the win and 2nd overall from Glen, both running JC equipped B44.2 buggies. Ray and Glen will now race for the series win in Round 4 – whoever comes out on top will take the series win.
In the well-supported SCT class, Ray Munday took a comfortable TQ from Scott Rawlings and Ben Sterling. A1 and A2 were very tricky for SCT, with rain falling partway through each race making the track very slippery, but Rays JC tyre & JC swaybar equipped SC10.2 was stuck to the track and took a dominant win. This also gives Ray the 2014 SCT Drivers series win. Ray was running the JConcepts front and rear sway bars, JC Hi-Flow SCT body, JC Hazard rims and wheel dishes, JC turnbuckles, JC over-tray and JC titanium front axles to finish off his ride.
In Stadium truck, Glen Bonetti and John Watkins had epic battles all day with their JConcepts equipped T4.2 trucks. Glen took a narrow win from John, who was also running the race meet and commentating for the finals. This also puts Glen in an unbeatable position for the 2014 Truck Series!
In the 17.5T classes, JConcepts driver Scott Giles TQ'd 4wd and qualified 2nd in 2wd stock with his 2wd buggies against the biggest fields of the day. Unfortunately he had bad luck in the finals, keeping him off the podium, but after strong results in round 1 and 2 he leads the series into the final round. Local youngster Cameron Zammit took out the 4wd stock class with his B44.2, using JC Finnisher body and JC tyres through the day.
Big thanks to the Keilor Club for their hard work to produce an awesome track and put on a first class event in trying circumstances. The final round of the year will be on the red clay at Wodonga at the end of September – based on the success of the rest of the 2014 series, it should be a huge event!
Ray's winning setups can be found HERE.
Thanks to Peter Brady and Mark Polistena for the photos and to Ray Munday for the report.