2014 JBRL Nitro Round 4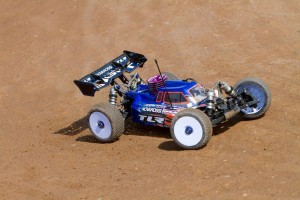 Ryan Maifield impresses and wins at JBRL nitro series round 4
Race: 2014 JBRL Nitro Series #4
Date: July 25-26, 2014
Track: Heritage R/C Park – Chula Vista, CA
During the weekend of July 25-26, the JConcepts team made a quick trip to Chula Vista, CA for the competitive JBRL nitro series. Ryan Maifield debuted his TLR 1:8th vehicles to a smashing success by TQing all 3 classes of Pro competition. The JConcepts equipped TLR vehicles had the fastest laps and overall times in both nitro classes to edge the likes of Drew Moller, Adam Drake, Cody King and Ryan Cavalieri. Hybrids in blue compound on the buggy and Stackers in blue on the truggy provided an immediate grippy feel on the somewhat wet Heritage Park R/C surface.



With a fresh set of tires mounted in the 1:8th truck class, Maifield sprung out of the gate quickly and opened a lead over TLR team mate Adam Drake. A small mistake by Drake allowed Ryan to pull away from the field and attempt his first pit stop. With the crew getting him in and out at around the 9:30 mark, Ryan still had plenty of work to do to remain in the lead. Pushing the truck and allowing the Stackers to dig in, Ryan put down some NovaRossi power and gapped the 2nd place driver enough to cautiously cruise home to a stellar result. A finishing splash and go on fuel gave the pits a little relief as Ryan cruised the last 2 minutes still running mid 37 second laps to the finish line.
Thanks to Jimmy Babcock, Heritage R/C Park and the many volunteers that brought out the best in 1:8th competition.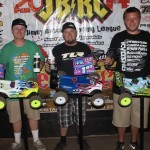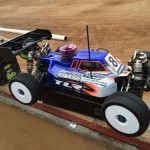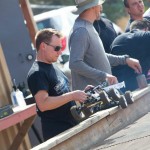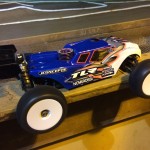 Photo Credit: John Cary
JConcepts products used:
3048-01 – Hybrids blue compound
3357W – Bullet 83mm wheels
3233 – Dirt-Tech inserts
0245 – Silencer, TLR 8ight-E 3.0 body
0259 – Silencer, TLR 8ight 3.0 body
2073 – 8/32" locking wheel nuts
2075 – JConcepts locking wheel nuts – blue
3069-01 – Stackers, blue compound
0066 – Punisher, TLR 8ight 2.0 body
2073 – 8/32" locking wheel nuts
2075 – JConcepts locking wheel nuts – blue
2043M – Advanced Formulated Tire Glue – Medium
2203 – M12 radio bag
2209 – JConcepts medium roller bag
2212-1 – Satellite tire gluing bands