2014 IFMAR Worlds – Afterthoughts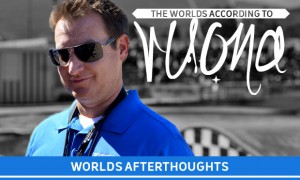 Better late than never? I guess that is my theme for this entry as we all recover from the long world championship event. It seems everyone got sick after the event too which has led to a long recovery and hang-over.
I ask my myself immediately following the 60 minute A-final event. So if you win on Sunday or in this case on Saturday, do you sell on Monday? That is why we are all there right? A promotion to help ignite sales of the product. Everyone should be lined up to buy all the latest product that was on the winning ride starting with the Hot Bodies D812….right?

No, this doesn't happen overnight and here is why. People take their product choices very personally. IPhone over Android, Coke over Pepsi, Ford over Chevy, brunette over blondes….etc….etc. People use these events as a justification that they have already chosen the right product and this is a platform to prove their point. A lot of ego plays a role into this too…. Who likes to say they bought a piece of crap? Not me. Chances are if you have a TLR you are thinking Maifield had that race covered if it wasn't for the servo that coincidently you don't endorse personally. If Ryan chose your favorite servo he would have won right? TLR rules… How about Ryan Cavalieri with the new AE? If you are an AE fanboy you are saying, man, Cav drove the azz off that new car and if he had a little more time on it, we would have been racing for the win. Wait until he gets adjusted and "dialed in."
The Mugen guys are saying, Lee Martin and Robert Batlle got shafted. They were flying and had flameouts, the Mugen is the beast-mode car. How about Kyosho? That car always walks on water. It's hard to get anyone to say anything bad about the K cars. The K boys think Aliens came down and sucked the performance out just the way the Monstars did to the NBA players in the 1996 hit movie Space Jam.
The Hot Bodies vehicle has fans but not nearly as many as the rest, which makes me wonder. What are people saying about this victory? Ty is a beast right? That's what I heard anyways and that is how the fanboys from other manufacturers are playing it. He could win with anything……Plus he had parts no one can get, right? That's what I heard around the pits.
Do you ever give more credit to the driver than the product? Why is that? Do you ever give more credit to the product than driver? Why is that? It's because people make up reasons for why their favorite or choice brand isn't winning and they justify it this way to themselves. Can Maifield or in this case Tessman really win with just anything as some Facebook or forum junkies say?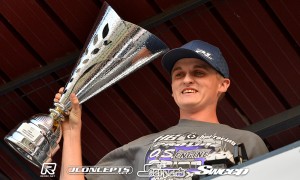 No, these guys can't drive a shoe box to victory…and here is why. See, in 1/8th scale and just about anything else you are only as good as your greatest weakness. If you suck at driving, you just suck and that is your weakness. If you have a terrible engine program and you flame out or run short of mileage all the time than that is your greatest weakness. Ty currently has the least amount of weakness in his racing program and that is the reason he is winning. His "shoebox" is a highly meticulously prepared vehicle with setups, products and designs that are catered to his skill set and arranged in such a way that it's comfortable to sit behind the wheel and do the job. A shoebox isn't getting it done.
The "I want to be great at 1/8th" check-list:
Ty's Worlds program –
· Driving, check
· Pit crew, check
· Mechanical / setup ability, check
· Vehicle program, check
· Engine program, check
· Tire program, check
· Electronic program, check
· Effort, check
· Support, check
· Intangibles, check
· Luck, not needed
The "I wanna be a good racer" program:
· Driving, highly questionable
· Pit crew, some kid at the track
· Mechanical / setup ability, straight off from last race
· Vehicle program, best chassis I can get a sponsor ride
· Engine program, haggered, retapped, bored out, polished, nifty 50 engine sponsor
· Tire program, copy of the best tire
· Electronic program, this matters? Magnum Jr.
· Effort, subpar, I'll get to it after the game
· Support, my pets are always behind me
· Intangibles, radio battery on its last leg, starter box works occasionally, receiver pack fixed with duct tape.
· Luck, always on my side since high-school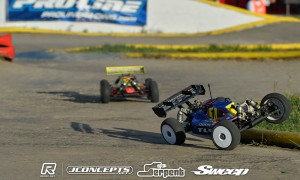 Why didn't Maifield win? "Why does this happen to him?" This is a text I got a few times after the main event. Ryan has TQed 2 IFMAR worlds and sat on Pole for 2 IFMAR worlds. He hasn't won it yet because one of the above worlds program factors hasn't allowed him too. I say yet because this guy isn't going anywhere…you see him lead the semi? Drive from the pole and lead during the main? You can't ask for much more from a driving standpoint. He qualified his highest ever at a 1/8th worlds, ran his best semi-final ever and led out over the world's best and he's still only 28 years old. When it comes together, it will come together in a big way.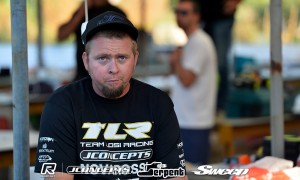 This is a performance and preparation game. Proper planning and preparation prevents piss poor performance. Is that 7 ps?
How do we breakdown the winners and losers at this event? Suppose you are a JConcepts guy and you are looking for the silver lining? You are a Mugen guy but have nothing to brag about? I'm a Kyosho guy and I'm accustomed to walking on water in 1/8th scale…. Good thing we have my list of "winning" from the 2014 IFMAR Worlds. This will ease your mind and put you right back up on the ego pedestal.
"Winning"
· Ty Tessman – of course. Career finish.
· Hot Bodies – 3 TQs and a main event win. Zero breakage.
· PL – Tires, wheels, body and wing. Had to be the fuel gun / stick and Lexan wing. I liked the worlds hat.
· OS engine. Say it, OS it and forget it.
· Savox servos – ours don't break tag line?
· Magnet wheel nuts – there is a new wheel nut sheriff in town.
· Nitrotane fuel – I guess it won. I'm still unsure about anything fuel related at this event. It was a strange situation to say the least.
· Team Associated – went from 6 feet under to 2nd place in 3 months. Finally have a platform to build from. 1 lap down too, but the fanboys don't know that. #rc8prototype2nation Reminds me of Days of Thunder.
Days of Thunder (1990)Rowdy Burns: You run good. Cole Trickle: Thank you. Rowdy Burns: Now go get your own effin production car and we'll see how you do in a crowd.
· Mugen – 3rd place overall. Carson Wernimont maybe the most underrated driver in R/C. Lee almost TQed the round when it rained and they had a great track condition. Solid 3rd overall qualifier from Lee Martin, should have been a podium contender. Robert Batlle had the most FB Memes made after a move on the Drake in the Semis.
· TLR – TQed a round. Best fuel mileage, Pole Position and car #1. Best selling and successful 1/8th platform of all time? Everyone loves Drake. New national holiday? Drake day.
· AKA – TQed practice and 2nd, 3rd overall. We talkin bout practice. Great team photo and nice hats and T-Shirts. I would want one but I'm a competitor.
· JConcepts – Pole Position, car # 1 and fastest lap in the A-final. Arguably the best looking R/C body in all of Italy captured by Ricky Ricky of RedRC. Diamond Bars with Dirt-Tech inserts duh, they rocked Giardini Naxos! After 2 pole positions now at the worlds I've decided it's like the best first kiss on new date that just doesn't go anywhere afterwards….ugh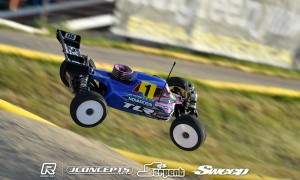 · Kyosho – practice TQ! Top 3 fastest driver at the event and European Champion. Kanai top straight-away speed of 64kph.
· NovaRossi – Pole Position, car # 1. Fastest lap in the A-Final. Cool checkered flag T-shirt on Robert Batlle. Victory is black and white?
· Pro Circuit – Robert was awesome and fast and they know how to outfit him with the correct tire. Had young David Ongaro as a fan favorite.
· Spektrum – it's still too early, don't go there. A Pole Position and car #1. Seriously, I've seen every servo break, servo and nitro just don't mix well, leave them alone.
· Orion – 3 engines in the final which is 2nd only to Novas 4. Finished 2nd and still retains Cavalieri, Tebo, Phend, Ronnefalk and maybe adds another hot shoe?
· Durango – Lutz quietly ran well all weekend and put it in the show. Held it down for the company proving the new car has potential. If there are any D fanboys left it was a great impression.
· Xray – The equipment was performing for sure. Martin Bayer looked impressive all the way through. TQed one of the rounds even though it was favorable track conditions. He was a practice hot shoe and carried it to the final.
· Local restaurants – hellz yeah, lots of people eating the same thing every night from a different place. $$$
· Local hotels – $$$
· Track snack bar – $$$
· Track surface – the concrete or whatever took a licken and kept on ticken. Ok, I'll say it, I liked the track and everything about it.
"Losing"
· Copied , total ripoff of the PL Lexan wing on FB already. They were only 45 min in to that A-final and a copy already emerged. At least make your own version as respected others will do.
Making sense of it all –
How do you get fanboys or loyal followers? It's something you can't buy or win. It takes work, dedication, championship winning results and time. No one wants to wait right? I want it all right now!!
We run these events to build brands. Make new friends, sit in the fox hole together and put in the effort that makes your mom, dad, spouse, pets and friends proud. You rise and fall together as a team and experience the ultimate highs and lows. If you are lucky, people will respect the effort, hop on your bandwagon and ride on. At least until you break a servo.
'Til next time,
Jason Ruona
Photo's Courtesy Of: RedRC.net