2014 Gold Cup
Dustin Evans and Michael Schoettler are Victorious at the 2014 Gold Cup with JConcepts.
Over the weekend of October 4th and 5th, Tacoma R/C Raceway hosted the annual Gold Cup event to kick off the fall/winter racing season. JConcepts was well represented at this event with Team Drivers Michael Schoettler, Dustin Evans and Ryan Matesa sweeping the 4wd Buggy podium, Dustin and Michael going one-two in Mod Buggy and Dustin winning Mod 2wd Short Course.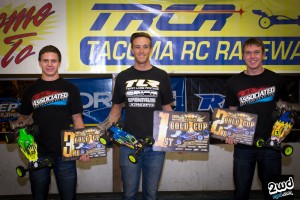 2wdMod
A1 – TQ Michael Schoettler would slowly start to gap the field while 2nd place qualifier, Luke Smith making an uncharacteristic 1st lap crash that sent him all the way back to 8th and was basically on damage limitation for the rest of the race. Evans would inherit 2nd place and drove like a madman on a mission. For almost 13 laps he tried his hardest to pressure young Schoettler into a mistake, but the gap was slowly growing by tenths. Then it happened. On lap 14, Schoettler would traction roll in the sweeper, tumbling his car into the concrete wall. The corner marshal rushed to his car and set it back on its' wheels…. however there wasn't any motion. Schoettler was done and had to watch as Evans would take the lead and cruise to a victory in A1. Luke would scramble and saved what could have been a disaster and turned it into a 2nd place drive. JC Johnson would finish just under 2 seconds behind Smith in 3rd.  Read more about this event HERE.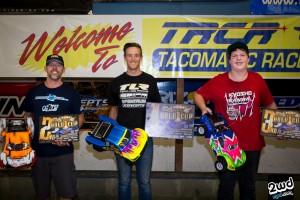 Race Report Courtesy Of: 2WDMod.com