2014 Cali Cup Challenge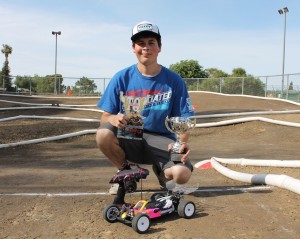 JConcepts Wins At Triple C
During the weekend of May 3rd- 4th, Delta RC Raceway would host their first annual Cali Cup Challenge in Antioch, California. Having rained the the weekend before, the original date for the race, the track crew would work hard to get the outdoor track prepped and ready to go.
JConcepts Team driver Eric Albano would be in attendance competing in the 2wd open buggy class with his JConcepts equipped, Reedy powered, Team Associated B5M. Albano would take the TQ honors after 5 rounds of qualifying taking best 3 out of 5 going into the triple A mains. A1 and A2 would see Albano taking the win almost a lap on the field using the Silencer B5M body, Dirt Webs, and Dirt Tech inserts.

Delta RC hosted a great event under challenging circumstances, with a smooth program and just under 100 entries.