2013 Wicked Weekend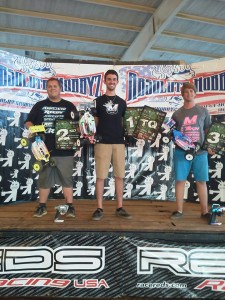 JConcepts Tires hooked up once again at the second annual Wicked Weekend.
The second annual Wicked Weekend took place in Gainesville, Georgia at the Chicopee Agriculture Center. The very nice venue is starting to draw all of the regional talent to the guaranteed no rain out race. A total of 387 entries made their way to central Georgia for a weekend of racing. The format for the event was Friday practice, Saturday Qualifiers, and the Mains on Sunday.

After a long day of Qualifying was over, the mains began on Sunday morning. Triple A mains were run in the E-Buggy class. TQ went to JConcepts Driver Barry Pettit with his new Mugen MBX-7. Barry Pettit was 1st on Blue Hybrids and Green Stackers, Max Fluer was 2nd on Blue Metrix and John Michael McGinty was 3rd on Blue Hybrids for a clean sweep of JConcepts tires dominating the field.
In Nitro 1/8th, Barry Pettit set the TQ to lead the main in the beginning. As the race unfolded and the strategies played out, Barry ended up finishing in the 2nd position after a hard fought battle running Red Hybrids. Other notable JConcepts drivers were John Michael McGinty in 4th, and Brandon Melton, Chandler Elliot, and Max Flurer.
Nitro Truggy A Main had Barry Pettit in the P1 on the grid. At the tone Pettit and his JConcepts equipped Truggy running Blue Hybrids, hooked up and ran at the front of the field for the first 10 minutes. As fuel stops played out, Barry continued to lead the field all of the way to the finish and wrap up his second class victory of the weekend.