2013 Turkey Dash
JConcepts wins at A Main's 2013 Turkey Dash.
On Saturday November 23rd, Outback raceway would host it's 2013 Turkey dash. With over 120 entries, racing would be stacked in all classes.
In 4wd modified, JConcepts Team Driver Eric Albano would start 2nd on the grid, with teammate Nathan Bernal right behind. Albano would make a move on the first lap putting himself out front and he never looked back. Bernal would battle his way through the race to finish 2nd overall.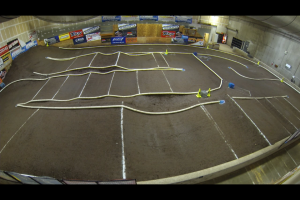 In 2wd modified, Top Qualifier Eric Albano would run into trouble and have to work his way back up to reach first. Albano would race side by side down the straight, on the last lap, winning by .035 of a second. Bernal would keep a steady pace throughout the race and finish 3rd overall.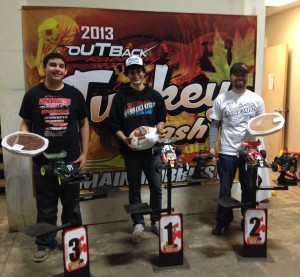 Thanks to A Main Hobbies for hosting a great event. Both drivers chose to run Bar Codes in Gold Compound and other JConcepts accessories on their B44.2's and Centro converted B4.2's.