2013 Surf City Classic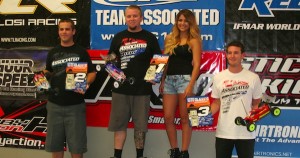 JConcepts drivers light up OCRC Raceway at the 2013 Surf City Classic. Maifield, Evans and Hartson win with JConcepts.
Race: 2013 Surf City Classic
Date: August 24-25, 2013
Track: OCRC Raceway – Huntington Beach, CA
For the 6th year in a row drivers converged at OCRC Raceway in Huntington Beach, CA, for the annual Surf City Classic. Since 2008 the event has drawn on Southern California's finest plus an influx from Arizona and surrounding areas to make the event a great success. Owners, Robert and Nick Black along with shop manager Jake Thayer have transformed OCRC Raceway into one of the most successful tracks and hobby stores in Southern California. The vibe created during the weekend was first class with qualifiers on Saturday afternoon followed by evening practice and a drivers' social. As usual, Sunday was reserved for the main event day with bump-ups.

Saturday showed dominance by the JConcepts team with Kody Numedahl, Ryan Maifield, Steven Hartson and Dustin Evans putting down amazing qualifiers to place themselves at the top of the field. Modified 2wd Short Course looked to be a Kody Numedahl show early in qualifying and after taking the first 2 rounds with the JConcepts equipped SC10.2 Kody was on a roll. Steven Hartson was on point in 1/8th E-buggy and easily placed his RC8.2e on pole position for Sundays main event by also sweeping the first 2 rounds. Ryan Maifield, battling with Ryan Cavalieri and Dustin Evans for round TQ's in the 2wd and 4wd modified classes was a back and forth affair.
Cavalieri struck first in 4wd and struck late in 2wd modified to earn the top qualifying spot in both "Worlds" classes. Ryan Maifield earned the #2 spot in both classes while Evans started 3rd in 2wd and Steven Hartson 3rd in 4wd modified. The top 4 drivers in 2wd modified and top 6 in 4wd modified utilized JConcepts Bar Codes in gold compound to dominate the top positions.
Saturday evening, the OCRC crew put on a great drivers social with celebrity DJ and open practice until just after midnight. It was once again a great opportunity for drivers to adjust their vehicles, tune to the high traction conditions and have a little fun in the pits. Everything was packed up tightly that evening and a slight amount of track maintenance was in order to prep for Sunday afternoon's main events. The doors opened just after 12pm to a line of drivers piling into OCRC for bump-up bonanza. The racing in the modified classes didn't start until race 26 so everyone had an extended amount of time to prep for the A-mains.
Modified truck was first up and Ryan Cavalieri disappeared from the competition very quickly. The quick, yet consistent pace was too much for the rest of the field and the 10 minute race allowed Cavalieri to stretch it further toward the end for a large margin victory with the Team Associated T4.2. Finishing order, Ryan Cavalieri 1st, Mike Truhe 2nd and Kevin Motter 3rd.
1/8th E-buggy was all Steven Hartson, the RC8.2e rolling on JConcepts gold Bar Codes disappeared from the field. Jake Thayer utilizing the same product program pushed his way into the 2nd position which he held throughout. At the finish it was Steven Hartson taking the victory, Jake Thayer 2nd and Ryan Dunford 3rd.
In the 2wd Short Course modified class, TQ Kody Numedahl took a small initial lead but very quickly made a small mistake taking 2nd qualifier Dustin Evans with him. Dustin dropped to 10th place and Kody was back out front leading the race. Kody started to walk away from the field running very consistent laps, but Cody Turner who was now in 2nd place was not going away very easily. Numedahl and Turner were out front and Dustin Evans was moving through the field quickly and was back into 3rd. Suddenly, Numedahl made several driving bobbles in a row and the top 3 was much closer together. Turner was in good position and trying to overtake for the lead but Numedahl was still driving consistently, making a pass difficult. Dustin Evans was on the move, turning the fastest laps and pulled right up behind the leaders. Kody made an uncharacteristic mistake giving the lead to Turner. Evans pushed the nose of his truck into the mix and somehow made his way into the lead. Dustin Evans took the win by 2 tenths of a second over Cody Turner and TQ Kody Numedahl had to settle for 3rd. Both Dustin and Kody relied on JConcepts products all weekend including the Bar Codes in gold compound to dominate the competition.
4wd modified was the next class to hit the track, TQ Ryan Cavalieri made a 1st lap bobble giving the lead to Ryan Maifield. The Team Associated / JConcepts ace was out front clicking laps with consistency. Barry Baker was briefly in 2nd place as Cavalieri made up distance to overtake and get back into position. Steven Hartson, recovering from a first lap problem was a driver on the move. Shaking off drivers left and right, Hartson was back into the fray and now just behind the World Champion Ryan Cavalieri. Cavalieri and Baker made mistakes dropping them behind the leader. Maifield was cruising and flying consistently around OCRC Raceway with the JConcepts equipped B44.2. Hartson was hitting on all cylinders, running laps in the sub 18 second range and trying to catch Maifield. Ryan wasn't going to be denied and held on to take the victory and cash award courtesy of the OCRC Raceway crew. Steven Hartson finished 2nd and Ryan Cavalieri 3rd. Maifield and Hartson chose the JConcepts accessory package including the Finnisher body and Hi-Clearance wing combined with gold Bar Codes to grip the surface.
The last main of the day, 2wd modified, started with TQ Ryan Cavalieri taking a great start. Team Associated Teammate, Maifield, hooked right onto the rear bumper of Cavalieri and the 2 drivers attempted to drive away from the field. TLR / JConcepts driver Dustin Evans ran within the top 3 until a small bobble dropped him down and Hartson moved into 3rd. The Ryan's were up front and putting on the Ryan and Ryan show everyone has come to respect. After the half-way point, Maifield had a few driving and traffic bobbles which cost him several seconds, dropping him out of close contention with Cavalieri. The top 3 were now spaced very evenly with a slight edge going to Cavalieri who remained clean out front. Nick Black gave the sign, finish the lap you are on, and Ryan Cavalieri took the win, Ryan Maifield 2nd and Steven Hartson in 3rd.
Hats off to Robert and Nick Black and OCRC Raceway crew on another great event. Mark the calendars for the 2014 Surf City Classic, it's a can't miss Southern California event.
Photos Courtesy – Jeremy Flint, R/C Insider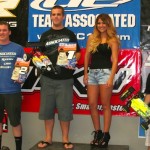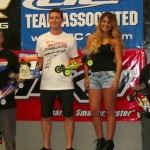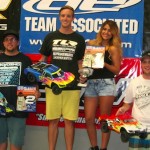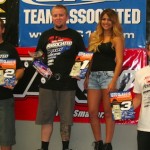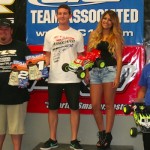 JConcepts winning products:
· 3016-05 – Bar Codes – gold compound
· 3017-05 – Bar Codes – gold compound
· 3020-05 – Bar Codes – gold compound
· 3021-05 – Bar Codes – gold compound
· 3044-05 – Bar Codes – gold compound
· 0248 – Finnisher B44.2 body
· 0265 – Finnisher C4.2 body
· 0252 – Finnisher T4.2 body
· 0239 – Finnisher RC8.2e body
· 0122 – Illuzion – 6.5″ Hi-Clearance wing
· 0133 – Illuzion – 7" Hi-Clearance wing
· 0120B – Punisher 1/8th buggy wing
· 2012M – JConcepts matte vehicle stand
· 2037 – Racing Bag – Small (includes plastic inner drawers)
· 2056 – Racing Bag – medium (includes plastic inner drawers)
· 2136 – 5 and 10gm stick-on weight set
· 2043M – JConcepts – Advanced Formulated Tire Glue – Medium
· 2075 – 8/32″ locking wheel nut – fits B4, T4, B44 and SC10 – locking / lightweight (blue)
· 2098 – 48 pitch, 81T, SS Machined Spur Gear – fits B4.1, T4.1, B44.1 and SC10
· 2099 – 48 pitch, 84T, SS Machined Spur Gear – fits B4.1, T4.1, B44.1 and SC10
· 2139 – JConcepts – body clips – black – medium size -12pc.
· 2158 – B4 / T4 / SC10 aluminum steering bell-cranks – blue
· 2159-2 – B4.1 aluminum wing mounts – black – 2pc
· 2160-1 – JConcepts – Associated battery hold down thumb nut – blue (fits B4.1, T4.1, B44.1 and SC10)
· 2167 – 8/32″ thin-pattern locking wheel nut – fits B44 front – locking / lightweight (blue)
· 2169T – Titanium B4 front axle for 12mm hex conversion (requires #9880 AE steering block)
· 2170T – Titanium T4 front axle for the 12mm hex conversion
· 2133 – JConcepts pit mat
· 2192-1 – Reedy Sonic motor timing cover – sensor wire protector – blue
· 2204 – JConcepts radio bag – Futaba 4PK
· 2209 – JConcepts roller bag
· 2227 – B44 generation Fin turnbuckle set – 6pc.
· 3348 – Mono – B4.1 | B44.1 | RB5 – 12mm hex rear wheel (white) – 4pc
· 3349 – Mono – B44.2 – front wheel (white) – 4pc