2013 Super Cup Championship Series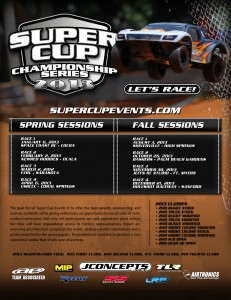 We are pleased to announce the 2013 Super Cup Championship Series and info on the 2012 Awards Banquet. Dates and tracks have been confirmed, so… Let's Race!
The goal for all Super Cup Events is to offer the best awards, announcing, and courses available, while giving enthusiasts an opportunity to see all sides of radio control excitement. Not only will participants see and experience great action, but they will have unparalleled access to Factory representatives. Expert announcing and direction completes the event, adding colorful commentary and a professional feel to the race program. These elements combine to produce a race experience unlike that of any seen elsewhere.
Read the entire 2013 Racer Packet HERE. It includes new class info, rules and more.

2013 Schedule
2012 Awards Banquet – January 5, 2013
Spring Session
RACE 1: Space Coast R/C – January 6, 2013
RACE 2: NewRed Hobbies – February 2, 2013
RACE 3: FZRC Raceway – March 2, 2013
RACE 4: Coral Springs – April 6, 2013
Fall Session
RACE 1: Shiverville Raceway – August 3, 2013
RACE 2: Bashers R/C Raceway – October 26, 2013
RACE 3: Jeff's R/C Studio – November 30 , 2013
RACE 4: Holeshot Raceway – December 21, 2013
2012 Awards Banquet Info
We are also pleased to announce the information and location of the 2012 Awards Banquet.
Date: Saturday January 5, 2012
Time: 6:00pm – 11:30pm
Location: Courtyard by Marriott – Cocoa Beach
This years awards banquet will be one not to miss, everyone who raced at least three races in a session is invited to take part. There will be food, a cash bar and non-stop entertainment by the one and only Matt Mosieur. The Banquet will take place inside the hotel in the Mars room. Come out Friday and enjoy the Beach on Saturday, get some practice and a quick club race Saturday afternoon at Space Coast RC and then enjoy a wide array of Hors D'oeuvres and cocktails starting at 6pm. There will also be a bunch of prizes to give-away thanks to our generous sponsors including, TLR, Team Associated, MIP, JConcepts and many more.
Rooms can be booked at the Courtyard by Marriott or at the Hampton Inn right next door. Special room rate for this event at either hotel is $99 per night, the Hampton Inn includes a free Breakfast. You may call either hotel directly and mention JConcepts for the special rate.
Rooms will need to be reserved by December 18, 2012 to qualify for the $99 rate.
Reservation Numbers:
(mention JConcepts)
Courtyard by Marriott 321-784-4800
Hampton Inn 321-799-4099
If you have any questions about the race format contact Fred Reep at supercupdirector@gmail.com
If you have questions about the awards banquet or problems with making reservations please contact Rich Muller at supercupscoring@gmail.com