2013 Spring Classic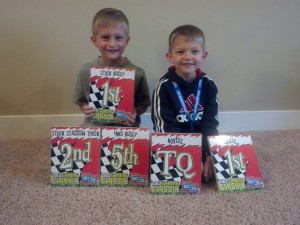 Mason and Kaden Fuller are victorious with JConcepts.
80/35 Raceway located in Des Moines, IA held their 2nd annual Spring Classic this past weekend. Mason Fuller and his younger brother Kaden were on hand to compete with the big boys. Mason did very well at the event, in stock buggy Mason took the win running JConcepts Bar Codes in green compound. In the Stock Truck class, Mason finished Second running JConcepts Pressure Points in green compound. Mason also ran in the 4wd Buggy class for the first time, finishing fifth. A very impressive weekend for someone who just turned 8 a couple of months ago.
Not to be out shined by his older brother, 5 year old Kaden TQ'd and won in the Novice class. Congratulations to these young drivers and we look forward to seeing many more podium shots in the future.