2013 Spektrum Off Road Championships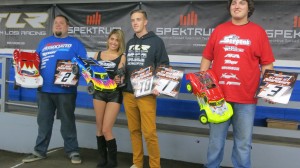 JConcepts dominates the Short Course Class at Spektrum.
The 2013 Spektrum Off Road Championships where held at Trackside Hobbies in Wisconsin. This years event brought out 361 of the best racers from across the region. Three full race days had the pit area packed, while outside the weather was confused with everything from 20 degree to 50 degree to drizzle and fog. At least it didn't snow.
Inside the action was hot as the JConcepts team had many drivers at the front of the field. Dustin Evans was the man to beat in Pro 2 Mod SCT. Sitting on pole he lead the main from start to finish with Chad Due hot on his heals to take the 2nd step on the podium. The 2 stars were joined by more JConcepts equipped trucks in the A final by Luke Richards, Jason Hills, Mike Nelson, and Alec Walters.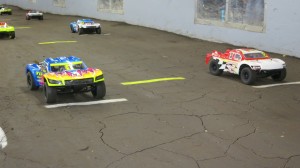 What might have been the best race of the weekend, Stock SCT had TQ Frank Kravitz in the lead followed by youngster Mason Perillo with his JConcepts equipped AE SC10 as the two checked out from the field. Mason held his own, and never let Frank get a gap. The tandem train made it's way through traffic and came down to the final lap. Frank with a little bounce off of the front table top allowed Mason the hole he was patiently looking for. The 2 drove door to door throughout the last half of a lap with no rough contact ultimately giving Mason the inside in the final turn. With a drag to the line, Mason got the win by 0.116 of a second. Or basically a fender. An amazing finish for the 13 year old Perillo.
Strong finishes in the other Mod classes had Dustin Evans on the podium in 2WD Mod Buggy joined by JConcepts team drivers Kai Goff, Chad Due, Cole Tollard and Kendall Welch.
4WD Mod Buggy had 6 of the 10 drivers on JConcepts products. Lead by Dustin Evans on the podium after the triple A mains. A great run by Cole Tollard put him in 4th overall followed in order by Chad Due, Corey Liebherr, Kai Goff, and Dustin Richards.
This race is always a favorite from the racers, and with a very nice track, the great staff of Trackside Hobbies, and guest announcer Scotty Ernst, it is definitely one you should put on your to-do list.