2013 Short Course Nationals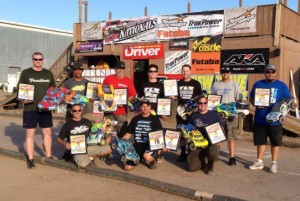 JConcepts Team Driver John Cravotta attended the 5th annual Short Course Nationals hosted by RC Madness in Enfield, CT. With great weather and 233 entries, there were Team Drivers from all over the country ready to race the challenging layout. The traction was the highest it has ever been here, racers were loving it. John ran two classes, Modified Short Course and Modified Short Course Buggy

The 1st round of qualifying went very well for John with the SCB taking down the TQ by 13 seconds with a 10 lap run in 5:13. With 77 entries in the Mod SCT class John was pleased to TQ round 1 by 5 sec with a 10 lap 5:19. Round 2 SCB, John crushed the TQ with a 10 lap 5:04 and he reset the TQ in Mod SCT with a 10 lap 5:08. In the 3rd round John made a few mistakes in SCB but drove well in Mod SCT taking the win in that heat but the track was slower and only put down a 10 lap 5:13.
For the Mod SCB A Main the track temps were up so John switched to Blue Compound 3D's in the rear, he had been running Green Compound in qualifying with great success. The switch paid off, traction was through the roof and with the compound change his SCB was on rails. By the second lap John had passed the leader and separated himself by half a track with 3 minutes left in the race. Coming onto the straight John ended up snapping the CVD in half not allowing him to finish the Main.
In the Mod SCT A Main John had a good jump on the start, but in the second corner the SCT pushed wide and he slipped into 2nd and then pushed wide again in the next corner that took him back to 4th. After a few laps of getting back in a groove John made a great pass going on to the straight on the inside taking the 3rd spot. A few corners later 4th place landed on John collecting the pack but he still came out in 3rd. The 2nd and 1st place drivers were about a straight away ahead. After a few more tight laps John caught 2nd place, coming up to an off-camber corner and step up he took over the 2nd spot with a great inside move. Down the straight the 1st place truck traction rolled and John was able to take over the lead. Keeping a very fast pace for the next 3 minutes John took the win by 4 seconds.
In the stock class, JConcepts driver Steve Jeancharles managed to TQ and win the Stock Short Course Buggy class running Double Dees in Green Compound.
Congratulations to all the winners and the RC Madness crew on the 5th annual event.