2013 New South Wales State Titles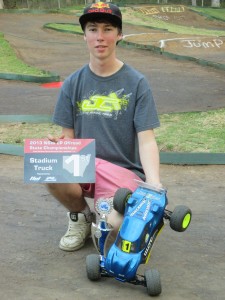 Glen Bonetti sweeps truck classes for JConcepts / AE at NSW State Titles
The 2013 New South Wales state titles were held at Castle Hill club in Sydney on the 6th-8th of September. The Castle Hill club members were able to produce a fast, fun and flowing track that was consistent over all three days of racing. Situated in a local park the track was surrounded by 30m tall trees which provided shade from the ascending heat and sun. All fields were well represented with several entries from around the country.
Leading the charge for JConcepts/ AE were both Glen Bonetti (JC/AE) and Andrew Selvaggi (JC/AE) who had made the 9 hour journey up from Victoria and had a tough job ahead with minimal practice time against the locals. Other interstaters included Rob Tomas (AE), Sam Wells (AE) and Alex John (Durango). The local racers wouldn't let these titles cross the border without a fight, at the forefront of these drivers, Ari Bakla (Kyosho/Xray), David Warner, Cale Wilson, Dallas Gardener and Tom Mately.

2WD Open saw many close battles with the field being split by the smallest of margins. The TQ and win went to multi-time national and state champion Ari Bakla. Glen Bonetti managed to position himself well by qualifying 2nd, but poor luck for Glen in the finals left him 4th. JConcepts Bar Codes front tyres in Blue and Orange worked extremely well on the high grip surface (rear was controlled tires).
4WD mod was hotly contested throughout the duration of event. Once again Ari Bakla was able to attain the TQ and the win. Glen Bonetti qualified 4th on the grid but drove smart and consistent to come home in 2nd overall for JConcepts. Sam Wells put in an amazing effort to snag himself a hard earned 3rd overall.
Glen used JConcepts Hi-Flow bodies, wings, Mono wheels and aluminum accessories on his Associated B4.2 and B44.2 buggies.

Truck (10.5) class saw Glen Bonetti fight hard with local driver Tom Mately. Glen was able to get both the TQ and take the first two finals to seal the victory. Andrew Selvaggi backed up his nationals podium with a solid top 5 result.
SCT (10.5) was an interesting class, a spectator favourite for sure! With plenty of rubbing and block passes it was essential to stay clean and avoid any incidents. Glen Bonetti was able to achieve this by taking the clean sweep of both qualifying (TQ) and the finals. Andrew Selvaggi really came on strong with his sc10.2 looking like it was on rails. He managed to seal the deal on a well-deserved 2nd. Both Andrew and Glen used orange Bar Codes up front, Hazard wheels and the JConcepts Hi-flow body.
Thanks to the Castle Hill Club for hosting a successful event!
Race Report By: Glen Bonetti