2013 March Madness Race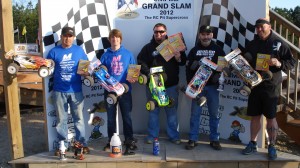 JConcepts is on top at the 2013 March Madness race hosted by the RC Pit.
Race Reporter: John McGinty
This weekend John Michael and I headed to Lugoff, SC for the RC Pit March Madness race. We arrived Friday evening and was able to practice for about a half hour.
Saturday morning we started the first of 4 rounds of qualifying. John Michael TQ'd the first round of Pro Buggy. He ended up qualifying 3rd overall in the Pro Buggy A Main. He qualified 4th overall in the Pro Truggy A Main. He qualified 2nd overall in the Ebuggy A Main.

The Ebuggy A main was first on Sunday. John stayed in 2nd the entire race behind Max Fluer about 6 or 7 seconds throughout the race until the last lap where he got tangled up with lap traffic. Max and John had lapped the entire field about 5 minutes into the 10 minute main. John finished 2nd overall. He ran JConcepts Hybrids in Black Compound. JConcepts driver Max Fluer TQ'd and won Ebuggy.
In the Pro Buggy class, John Michael got tangled up on the first lap and crossed the line in 7th to start out. He quickly worked his way up through traffic and was in 2nd place a few minutes later. He was the fastest car on the track and was quickly walking down Greg Degani who was the leader. JM and Greg battled back and forth after the first pit stop with John getting by him and pulling away. Lap traffic did not work in JM's favor and he fell back to 2nd. They swapped the lead back and forth numerous times throughout the 30 minute main with JM leading a good bit of the race. Greg ended up getting by JM when he got stuck on a pipe and it took the marshal a few seconds to get to him. John ended up finishing 2nd overall. Greg and John lapped the entire field and were the only ones on the lead lap. He ran Black Hybrids. JConcepts drivers Jason Smith finished 3rd and Kevin Bullock finished 5th. Tim Smith won the Pro Buggy B main and bumped into the A main and finished 8th. Josh Hollifield finished 9th and Bobby Moore finished 10th.
In Pro Truggy, John qualified 4th. At the start he got tangled up with another truck and was in 5th at the start. John quickly moved up the field to 2nd place where he stayed. He stayed about 8 seconds behind the leader just about all of the 30 minute main until the end where he made a couple bobbles. He finished 2nd. He ran Black Hybrids. JConcepts driver Jason Smith TQ'd and won leading from start to finish. Josh Hollifield finished 4th and Bobby Moore finished 5th.
Max Fluer also TQ'd and won ETruggy and 2wd SCT.
I qualified 5th in the +40 class and finished 3rd overall with my MBX7. I ran Green Hybrids. JConcepts drivers Pete Worth finished 2nd and Bobby Moore finished 4th.
It was a great weekend for JConcepts at the RC Pit March Madness race.