2013 JConcepts Winter Indoor Shootout & Invitational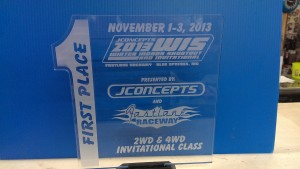 For the 3rd year, the annual JConcepts Winter Indoor Shootout and Invitational was held at Fastlane RC in Blue Springs Missouri, just out side of Kansas City. Every November, the area racers in the Mid-West make the trek to the popular track for this event. The Indoor Shootout portion is a normal racing event, 4 rounds of qualifying with extended main format. The Invitational is a unique chance for the faster regional guys to do 10 main events heads up racing ala Reedy Race format. JConcepts Bar Codes in Green compound control tires for the cars, Saturday consist of 5 rounds of 2Wheel Mod buggy followed by 5 rounds of 4Wheel Buggy on Sunday. The first round was drawn from a hat, the next 3 rounds on random computer draw. As a twist, we added the final round to be in the current points order for the class. Then inverted the field.

Walking in on practice day, the track looked like it would be fun. Nothing too technical, some elevation, just a good layout. Once the cars arrived, it became apparent that the track was in fact 'busy'. You were going to be on your toes to do a good lap, and for 6 minutes of Invitational main event racing, it was going to be tough to be consistent, clean, and fast. With fast laps in the high 16 second range, mistakes would be huge, dropping from 2nd to 7th in a blink of an eye.
Saturdays program began with the first Invite heats followed by the open class qualifiers with more invite heats sprinkled in between. As the day went on, the fastest most consistent drivers were Cody Hollis from Oklahoma with his TLR. Cody had a strong showing at the recent IFMAR Worlds, and was carrying the momentum with him. Next would be fellow TLR teammate Taylor Larsen from the west side of Kansas. Chad Karstens from Iowa started off with solid scores. As it got later into the day, an unrecognized competitor had strung together a bunch of 2nd place finishes and topped it off with a win. Going into the final round, 11 year old Aydin Horne put himself in position to be on top. When the 5th and final round was completed, Horne would use a 2nd for his drop, and be the leader going into Sundays 4Wheel portion.
Starting off with the Invitational 4Wheel class, Ayden Horne continued his winning ways with a 1st and 2nd in the opening rounds. Taylor Larsen was on the move with 2 wins, and Mitchel Gardner, and Zach Phillips split a 1-4 score. Round 3 had some intense racing as some drivers were trying a last ditch effort for a good result. Round 4 was back to normal and heading into the final main, after 54 minutes of racing, 2 drivers were tied on points. 11 year old Aydin Horne was tied with Taylor Larson. AE vs. TLR. Youth vs. well, more youth. From the buzzer, Larson was on point and waiting for the challenge from behind. After 6 minutes, Taylor took the win, and the overall of this exciting format of racing.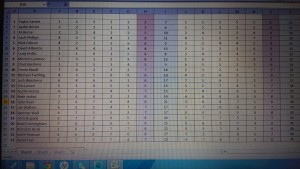 For the Open classes, Fred Kropf took the top spot over a battling Bryan Bowers, and Brian Valles.
Super Stock Buggy was Bryan Bowers with the convincing win over Nick Edgington closely followed by James Flagg.
Mod Truck was a battle of the Invite drivers with bigger wheels. TQ Taylor Larsen had is 22T dialed in battling Aydin Horne and AE's Trevor Nault on the podium.
Mod 2Wheel had Ayden Horne's teammate Mikey Wells with the TQ and win over Brian Butts, and a hard charge from behind from Mike Garrison to grab the final podium spot.
Pro 4 was TQ Spencer Wall with the win followed by David Johnson and Jamie Barker.
Pro 2 was won by TQ David Fast from Iowa followed by Bryan Bowers and Travis Baldwin.
I was excited going in to this event to see the outcome of the Invite class, and I was not disappointed. I am looking forward to next years version of JConcepts Fastlane Invitational.