2013 JConcepts Summer Indoor Nationals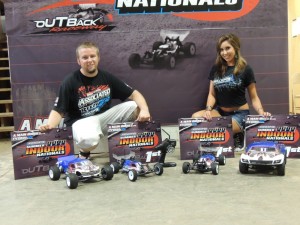 Maifield cleans house at Summer Indoor Nationals with JConcepts winning 4 classes.
Race: 2013 JConcepts Summer Indoor Nationals
Date: July 13-14 , 2013
Track: Outback Raceway – Chico, CA
For the 4th consecutive year, the summer racing scene turns to Chico, California, for one of the largest indoor races in California. The JConcepts Indoor National Series arrived for its 3rd stop on the one of a kind U.S. based National Series. Defending INS champion Steven Hartson was in attendance along with 2013 National points leader Ryan Maifield. The Team Associated duo was set to do battle against the likes of Kyosho's Cody Turner and TLR's Phillip Atondo. As a twist, Maifield entered an additional class bringing 4 vehicles to the event to shake things down for an upcoming busy summer schedule.

Qualifying started with the defending champion Steven Hartson taking the round 1 TQ in the 4wd modified class. Ryan Maifield would have to wait until his first run in the SCT class for his first TQ run of the weekend but he was on a tear taking the modified Racing Truck and 2wd modified TQ's to finish off round 1. Round 2 was a Maifield sweep as he easily took the 4wd, SCT, Racing Truck and 2wd modified TQ's. The JConcepts equipped Team Associated vehicles were on point and with Ryan settling into a groove it was a challenge to see if he could TQ all 4 classes. With only 3 total qualifiers, Ryan had already earned himself TQ in SCT, Racing Truck and 2wd modified with 2 straight TQ's in each class. Steven Hartson, another quick driver during round 2, put in solid runs to solidify his spot in the A-main.
A heated battle was on in the 17.5 stock class, Spencer Rivkin TQ'ed round 1 of qualifying and Daimon Borkowicz TQ'ed round 2 setting up a showdown in round 3 for the overall TQ between the two JConcepts / Team Associated drivers. Stock truck was being dominated by young Nathan Bernal who put the JConcepts equipped T4.2 into the TQ position even before the 3rd round started.
During the 3rd round of qualifying Ryan Maifield was able to take the top spot in the 4wd modified class and secure his 4th TQ of the weekend. Daimon Borkowicz was the hot driver during round 3 of 17.5 2wd buggy getting the round TQ as well as taking the overall for the weekend. The Bar Codes in gold compound were the perfect complement to the tricky Outback Raceway surface used by most in qualifying and specifically Ryan Maifield, Daimon Borkowicz and Nathan Bernal.
The single A-main events took place on Sunday afternoon so the drivers used most of the morning to settle on vehicle setup and maintenance while race director Ruben Benitez ran the main event program on schedule. The buzz in the pits started with most people leaning to Maifield, however, as the main approached it was clearly a different story as the rest of the drivers felt they could maintain pace with the hero driver from Arizona in a winner take all single 8 minute A-main.
The 2wd Short Course A-main started with Maifield taking a huge lead, the speedy driver said "see ya," to the rest of the field. An electronic error on the start for 2nd qualifier Steven Hartson caused a pile-up and from there Maifield was gone. The SC10.2 topped off with Hi-Flow body was on rails as Maifield threw down the quickest laps seen in the SCT class on his way to almost a 1 lap lead. Friends and teammates Spencer Rivkin and Tanner Denney battled for the second position while Maifield was coming up to lap his nearest competition. Ryan sat patiently behind the competition and allowed them to battle. An opening showed and Maifield took it and was off to take the easy victory and his 1st of the day. Spencer Rivkin finished 2nd and Tanner Denney 3rd. All 3 drivers relied on the JConcepts aero and traction package of Hi-Flow body and gold compound Bar Codes to sweep the podium.
The Racing Truck A-main began with Maifield once again out front. The TQ driver eased himself into the main holding a slight lead over the rest of the pack. Brent Thielke and Tyler Vik had a great race for 2nd but the battle allowed Maifield to check out. Ryan's consistency wore down the rest of the field and he started coming up on back markers only after 2 minutes into the race. Ryan crossed the finish line to another well deserved victory, his 2nd of the day. Tyler Vik fought off the charge from Brent Thielke as the two drivers finished 2nd and 3rd respectively. All 3 drivers were on JConcepts, tires and bodies during the A-main. Gold compound Bar Codes were on point for the rear while gold Pressure Points were the choice for front tires, all topped off with Finnisher bodies.
The fastest vehicles of the weekend, the 4wd modified class, drivers took to the grid to line-up which was sure to be a quick final. It was once again Maifield jumping out to the early and fast start laying down the power on the B44.2 buggy. Steven Hartson, Tanner Denney among others held close but the pure speed was too much for the competition to handle. Tanner's early racy pass, placed him in 2nd and he maintained that position until challenged by Hartson. Hartson was quick and looked to get around Denney but each passing attempt was denied while Denney maintained his position. Finishing the last lap in style, Maifield crossed for 1st place, Tanner Denney finished 2nd and Steven Hartson 3rd. Once again, the top 3 drivers were on JConcepts gold rubber all the way around topped off with the Finnisher body for the B44.2.
17.5 Racing Truck stock was dominated during qualifying by Nathan Bernal. The main event started with Nathan getting a great start and pulling ahead. Bernal's T4.2 with JConcepts gold Bar Codes looked dominant but Ryan Sagisi and Nathan Lavery were in pursuit throughout, holding Bernal honest. Bernal was clearly gripping and ripping and had the 17.5 truck on rails. Nathan Bernal crossed the finish line taking 1st place. The top 3 drivers all used JConcepts Bar Codes in gold compound.
The 17.5 2wd stock title was up for grabs and the drivers were introduced to the crowd and were off on the tone. TQ, Daimon Borkowicz had a great start through the first several turns until a slightly difficult landing forced Daimon off track where he regained his composure but now back into the 5th place. 2nd qualifier, Spencer Rivkin was now out front and looking sharp. With speed and a nice gap back to 2nd place on his side, Spencer was in control of the race. Daimon worked quickly and got back into contention and then a move into 2nd and the young driver from Florida had recovered and was back in the hunt. Sacramento driver Nathan Bernal was driving extremely well in the race and was giving Daimon all he could handle throughout. Spencer was gone and the race was all but his, Nathan put a pass on Daimon coming on the straight-away taking the 2nd position with only 2 laps to go. Daimon attempted several passes to regain the position but Nathan held strong. Finishing up, it was Spencer Rivkin taking victory, Nathan Bernal finished 2nd and Daimon Borkowicz 3rd. All 3 drivers chose JConcepts gold Bar Codes to grip the polished surface and topped off their vehicles with the Finnisher body on their B4.2 buggies.
Finishing off the Summer Indoor Nationals with the 2wd Mod class, Ruben Benitez greeted and thanked the crowd for the record setting Chico turnout and announced the top qualified drivers in the 2wd modified A-main. As luck would have it, it turned out to be a great race with Ryan Maifield taking the early lead. Ryan looked smooth and calculated in the early minutes handling the somewhat bumpy surface with precision. Steven Hartson emerged into 2nd place while 3rd was completely up for grabs. Maifield stretched the lead, turning an ultra fast lap of 17.00 during the first several minutes, he was solidly in control.
All of a sudden, Maifield made an uncharacteristic mistake and hung it on a 180 degree turn allowing Hartson to move all the way back to the bumper of Maifield. The two Team Associated / JConcepts drivers put on a show for the crowd and did not disappoint. Maifield muscled his B4.2 around the track not allowing Hartson to pass on any corner throughout the next 3 minutes of racing. Hartson made every attempt around multiple turns but absolutely could not make a move that stuck. Maifield was not going to be denied the victory, Hartson made a mistake toward the end allowing Ryan a sizeable lead. From there on out, Ryan smoothed the JConcepts equipped B4.2 around the tough conditions and gapped the field on his way to another victory and his 4th of the weekend. Steven Hartson finished 2nd and Tanner Denney 3rd. All 10 drivers in the A-main were rolling on JConcepts Bar Codes in gold compound. The top 3 drivers all chose JConcepts Finnisher body, Hi-Clearance wing and Mono wheels to finishing off their vehicles.
Thanks to Ruben Benitez, Outback Raceway crew and the entire A-main Hobbies facility on an organized and spectacular event.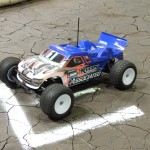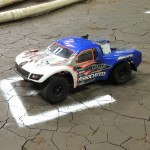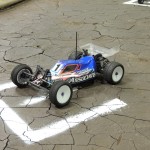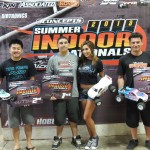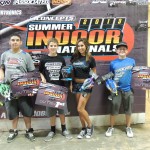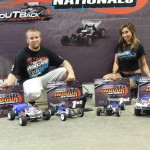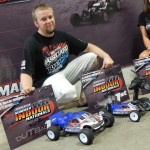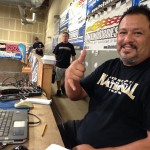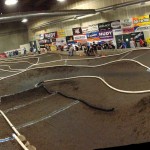 JConcepts winning products:
· 3016-05 – Bar Codes – gold compound
· 3017-05 – Bar Codes – gold compound
· 3021-05 – Bar Codes – gold compound
· 3062-05 – Pressure Points – gold compound
· 3044-05 – Bar Codes – gold compound
· 3049-05 – Bar Codes SCT – gold compound
· 0212 – Finnisher B4.2 body
· 0248 – Finnisher B44.2 body
· 0252 – Finnisher T4.2 body
· 0222 – Hi-Flow SCT body
· 0122 – Illuzion – 6.5″ Hi-Clearance wing
· 2012M – JConcepts matte vehicle stand
· 2037 – Racing Bag – Small (includes plastic inner drawers)
· 2056 – Racing Bag – medium (includes plastic inner drawers)
· 2102 – JConcepts – 1/10th, 1/8th and SCT Striker setup board w/ foam pad
· 2136 – 5 and 10gm stick-on weight set
· 2043M – JConcepts – Advanced Formulated Tire Glue – Medium
· 2075 – 8/32″ locking wheel nut – fits B4, T4, B44 and SC10 – locking / lightweight (blue)
· 2098 – 48 pitch, 81T, SS Machined Spur Gear – fits B4.1, T4.1, B44.1 and SC10
· 2099 – 48 pitch, 84T, SS Machined Spur Gear – fits B4.1, T4.1, B44.1 and SC10
· 2135 – 12mm front clamping hex adaptor for B4.1 – blue anodized aluminum
· 2139 – JConcepts – body clips – black – medium size -12pc.
· 2158 – B4 / T4 / SC10 aluminum steering bell-cranks – blue
· 2159-1 – B4.1 aluminum wing mounts – blue – 2pc
· 2160-1 – JConcepts – Associated battery hold down thumb nut – blue (fits B4.1, T4.1, B44.1 and SC10)
· 2161 – B4.1 +8mm Monroe Carbon Fiber battery brace
· 2165 – Associated Carbon Fiber Hub Tower A, B and C (fits aluminum hub carrier)
· 2167 – 8/32″ thin-pattern locking wheel nut – fits B44 front – locking / lightweight (blue)
· 2169T – Titanium B4 front axle for 12mm hex conversion (requires #9880 AE steering block)
· 2170T – Titanium T4 front axle for the 12mm hex conversion
· 2171T – Titanium SC10 front axle for the 12mm hex conversion
· 2091 – 12mm rear hex adaptor for B4.1, B44.1 – blue anodized aluminum
· 2133 – JConcepts pit mat
· 2192-1 – Reedy Sonic motor timing cover – sensor wire protector – blue
· 2204 – JConcepts radio bag – Futaba 4PK
· 2225 – B4 generation Fin turnbuckle set – 6pc.
· 2226 – T4 / SC10 generation Fin turnbuckle set – 6pc.
· 2227 – B44 generation Fin turnbuckle set – 6pc.
· 3347 – Mono – B4.1 | RB5 – 12mm hex front wheel (white) – 4pc
· 3348 – Mono – B4.1 | B44.1 | RB5 – 12mm hex rear wheel (white) – 4pc
· 3349 – Mono – B44 – front wheel (white) – 4pc
· 3344B – Hazard – SC10 wheel – black – 2pc.
· 3354 – Mono – T4.1 – 12mm hex F&R wheel – white – 4pc.
· 3201 – And-1 – truck insert
· 3203 – And-1 – 2wd front insert
· 3202-1 – Profiled – 4wd buggy front insert – 2pc
· 3206-3 – Profiled – 2wd buggy rear insert – medium / grooved – 2pc
· 3217-1 – Profiled – SCT insert – medium / grooved – 2pc