2013 JConcepts Dirt Invert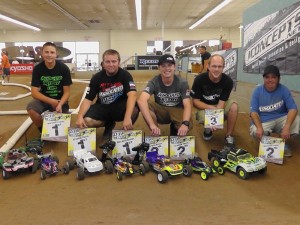 Ryan Maifield, Tommy Hinz and Justin Miller win at the 2013 Dirt Invert with JConcepts.
Race: 2013 JConcepts Dirt Invert
Date: May 25-26 , 2013
Track: OneHobbies – Peoria, AZ
The 1st Annual Dirt Invert event was held at One Hobbies in Peoria, AZ, with a great turnout of local drivers and seasoned Arizona pros. The One Hobbies facility was the perfect setting for the debut of a new format of racing which involves triple A-mains, an interesting twist of inverted 2nd and 3rd main starts and scoring which utilizes all 3 main event scores. The format which is endorsed by Brian "Dirt" Kinwald drew the attention of many spectators and curious locals who wanted to see the favorite drivers come from the back of the pack.

During the first round of qualifying, Ryan Maifield took the JConcepts equipped T4.2 to the top of the modified truck field taking a super quick time which looked almost untouchable. Spencer Rivkin TQ'ed round 1 of the 2wd modified class just slightly edging the early race favorite Ryan Maifield. Tommy Hinz TQ'ed the 4×4 SCT class with green compound Pressure Points, while Chris Wheeler opened up with a great run TQ'ing the 2wd modified SCT class with his mid-motor TLR 22-SCT. From that point on Ryan Maifield took control of all the qualifying results TQ'ing the next 2 rounds in modified truck and 2wd modified buggy to place his Team Associated vehicles up front for A-main number 1. Chris Wheeler and Tommy Hinz took care of business in rounds 2 and 3 of 4×4 and 2wd modified SCT taking the overall TQ in their respective classes.
Everyone arrived bright and early Sunday morning to perform extra vehicle maintenance and get in a few extra practice runs before the main events started. Drivers prepared for A-1 events just as any other race and the top qualifiers did not disappoint. Ryan Maifield took an easy wire to wire victory in the Modified Truck A1 while A1 of buggy was slightly more contested but in the end Maifield prevailed once again winning A1 of 2wd Modified Buggy. Chris Wheeler easily won A1 of 2wd Modified Short Course and Tommy Hinz won the single 4×4 Short Course A-main in convincing fashion.
A2 is where things got very interesting, Ryan Maifield in the "Invert" 10th position started the Modified Truck A2 in the back of the pack. It wasn't long before Ryan was battling toward the front of the pack as he worked he way into position. Tanner Denney and Spencer Rivkin provided an early challenge but Maifield slid inside, passed on the outside and pulled off just about every trick in the driving book on his way back to the front. Ryan Maifield easily took A2 and would again start A3 in the 10th position but as the points leader heading into the all important A3.
A2 of Modified SCT started just as the first with Chris Wheeler taking a comfortable lead and cruising up front. Tommy Hinz and Brian Kinwald attempted to reel in the leader turning several hot laps. Entering the front straight-away, Wheeler encountered a mechanical problem forcing him out of the race and Tommy Hinz took over. The JConcepts equipped SC10 put down the power the rest of the main taking 1st place slightly pulling away from the legend, Brian Kinwald who finished in 2nd.
A2 of 2wd was possibly the best race of the weekend. Ryan Maifield started 10th after his "Invert" to the back of the pack and Brian Kinwald and Billy Fischer started toward the front. Brian Kinwald looked sharp and easily driving his best race of the weekend while being out front. Maifield was coming through the pack quickly and had several battles with Fischer, Rivkin, Denney and Crosley on his way up front. With about 2 minutes to go, Maifield caught up to Kinwald and started applying pressure. Pressure is nothing new to the 2-time World Champion and Kinwald held his line while the Arizona legend was stuck to his bumper. Over the large triple jump on the back straight-away Kinwald landed perfectly but caught some outside marbles and pushed to the outside entering the infield. Maifield jumped inside and he was gone taking 1st place in A2. Kinwald finished taking 2nd place in a great spectator race.
A3 of Modified Truck began with Maifield again being in 10th place off the starting grid. This time Spencer Rivkin and Tannery Denney were out front and trying to pull distance on the field. The 2 young guns battled slightly allowing Maifield to inch closer to the front of the pack. Spencer and Tanner tangled at the end of the front straight-away and Maifield jumped inside to take 2nd place. Spencer stayed consistent out front and kept Maifield honest. Maifield made several pass attempts which were blocked and the drivers got tangled on several occasions but being courteous, Maifield allowed Spencer back into the lead each time. Maifield allowed Spencer an extra gap on the last pass attempt and Maifield settled for 2nd place. Both trucks were amazingly hooked up in A3 with JConcepts green compound Bar Codes providing the grip while being topped off with Finnisher bodies, Rivkin held on for the A3 victory. Ryan Maifield finished 2nd and with only 4 overall points easily won the first Dirt Invert class of the weekend.
For A3 of 2wd SCT, the front running drivers were all starting at the back of the pack. Chris Wheeler maneuvered his way up front very quickly while Tommy Hinz and Brian Kinwald fought for 2nd and 3rd. With the breakage in A2 Wheeler wouldn't be able to win the overall so while he cruised up front it was Kinwald and Hinz putting on the show for the win. Hinz held a small points advantage going into A3 so Kinwald would need to beat him by 2 positions for the championship. Hinz only put up a small fight to Kinwald but didn't risk breakage and held position just behind the "Dirtinator". Wheeler crossed for the A3 victory, Brian Kinwald 2nd and Tommy Hinz 3rd. Tommy Hinz took the overall victory with a 1st, 2nd and 3rd to take the Team Associated SC10 equipped with JConcepts to the top of the podium. Brian Kinwald was awarded 2nd overall for his consistency while Chris Wheeler rounded out the podium in 3rd place.
The 13.5 2wd class was amazingly tight during all 3 main events. Humpty Helms who looked strong in qualifying had an unfortunate problem in A1 forcing him out, allowing the young Justin Miller to the front of the pack to take A1. A2 started with Humpty up front again because of the Invert and Miller to the back of the pack. Humpty checked out from the front row, but Justin Miller stayed calm and picked up a 2nd place finish giving him a 1 and 2 and the best mathematical chance at the win going into A3. During A3 Justin looked super strong again coming from the back of the pack up to the top 4 very quickly. Justin moved into 2nd place with the JConcepts equipped B4.2 and held it to the finish to take the overall 13.5 championship.
The last race of the weekend, 2wd Modified A3, was another exciting race. With Maifield Inverted to 10th place, he would again have to work his way up through the pack. Tanner Denney and Maifield were locked in an early battle until the 2 drivers were forced into the end of the straight-away and stuck against the wall. Turn marshals scrambled and got the 2 quick drivers going but the lead pack was getting away. Maifield turned up the heat and dove inside and jumped around cars for several laps to regain his position back up front. Cory Crosley was having a great run and racing with the leaders and Maifield got around to go back into the lead. Maifield dominated the last several laps picking up his 3rd consecutive win of the day to win very convincingly overall. Maifield's B4.2 was glued to the track all weekend with Bar Codes tires in green compound mounted on Mono 12mm hex wheels. The Finnisher body with custom paint was striking as usual, while the aero package was complete with the Hi-Clearance rear wing.
A special thanks to One Hobbies on the outstanding event, first class facility and great track layout. A big thanks to Chris Stravos, Vareck Wright and Chris Allen who were working away on the track or directing the action all weekend. A final shout to all the fine race sponsors of the weekend and JConcepts and Brian Kinwald for the name and event format idea. See everyone next year!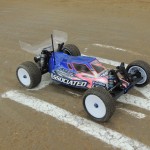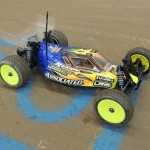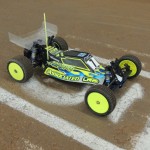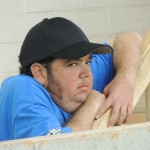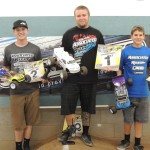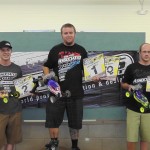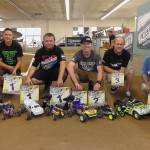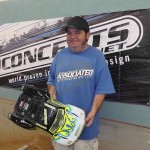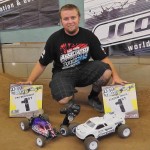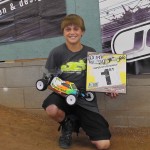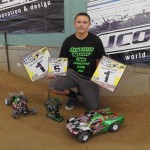 JConcepts winning products:
· 3016-02 – Bar Codes – green compound
· 3017-02 – Bar Codes – green compound
· 3021-02 – Bar Codes – green compound
· 3049-02 – Bar Codes SCT – green compound
· 0212 – Finnisher B4.2 body
· 0248 – Finnisher B44.2 body
· 0252 – Finnisher T4.2 body
· 0222 – Hi-Flow SCT body
· 0122 – Illuzion – 6.5″ Hi-Clearance wing
· 2012M – JConcepts matte vehicle stand
· 2037 – Racing Bag – Small (includes plastic inner drawers)
· 2056 – Racing Bag – medium (includes plastic inner drawers)
· 2102 – JConcepts – 1/10th, 1/8th and SCT Striker setup board w/ foam pad
· 2136 – 5 and 10gm stick-on weight set
· 2043M – JConcepts – Advanced Formulated Tire Glue – Medium
· 2075 – 8/32″ locking wheel nut – fits B4, T4, B44 and SC10 – locking / lightweight (blue)
· 2098 – 48 pitch, 81T, SS Machined Spur Gear – fits B4.1, T4.1, B44.1 and SC10
· 2099 – 48 pitch, 84T, SS Machined Spur Gear – fits B4.1, T4.1, B44.1 and SC10
· 2135 – 12mm front clamping hex adaptor for B4.1 – blue anodized aluminum
· 2139 – JConcepts – body clips – black – medium size -12pc.
· 2158 – B4 / T4 / SC10 aluminum steering bell-cranks – blue
· 2159-1 – B4.1 aluminum wing mounts – blue – 2pc
· 2160-1 – JConcepts – Associated battery hold down thumb nut – blue (fits B4.1, T4.1, B44.1 and SC10)
· 2161 – B4.1 +8mm Monroe Carbon Fiber battery brace
· 2165 – Associated Carbon Fiber Hub Tower A, B and C (fits aluminum hub carrier)
· 2167 – 8/32″ thin-pattern locking wheel nut – fits B44 front – locking / lightweight (blue)
· 2169T – Titanium B4 front axle for 12mm hex conversion (requires #9880 AE steering block)
· 2091 – 12mm rear hex adaptor for B4.1, B44.1 – blue anodized aluminum
· 2133 – JConcepts pit mat
· 2156-2 – 4mm low-profile locking wheel nut – fits all Traxxas, SC10 4×4, TLR 22, SCT-E (black)
· 2192-1 – Reedy Sonic motor timing cover – sensor wire protector – blue
· 2204 – JConcepts radio bag – Futaba 4PK
· 2225 – B4 generation Fin turnbuckle set – 6pc.
· 2226 – T4 / SC10 generation Fin turnbuckle set – 6pc.
· 3347 – Mono – B4.1 | RB5 – 12mm hex front wheel (white) – 4pc
· 3348 – Mono – B4.1 | B44.1 | RB5 – 12mm hex rear wheel (white) – 4pc
· 3344B – Hazard – SC10 wheel – black – 2pc.
· 3354 – Mono – T4.1 – 12mm hex F&R wheel – white – 4pc.
· 3201 – And-1 – truck insert
· 3203 – And-1 – 2wd front insert
· 3206-2 – Profiled – 2wd buggy rear insert – medium / grooved – 2pc
· 3217-1 – Profiled – SCT insert – medium / grooved – 2pc