2013 JConcepts Clash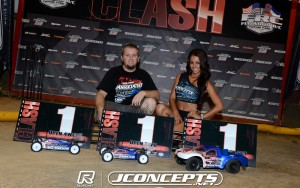 Ryan Maifield takes 3, Dave Duncan takes 2 while JR Mitch, Cody Hollis, Peyton MacDonald and Justin Cranford take 1 at 7th annual JConcepts Clash.
Race: 2013 JConcepts Clash
Date: September 6-8, 2013
Track: Flowood R/C Park – Flowood, Mississippi
The 7th Annual JConcepts Clash was held for the 2nd year in a row at the Flowood R/C Park in Flowood, Mississippi. Bubba Barham and his crew from FRC went all out building the Paul Wynn designed layout for the 2013 event. With the uniqueness of the Clash, it's imperative to have the layout suitable to both nitro and electric and and for the 7th year in a row the Clash team pulled off the feat. With a fresh layout and surface, drivers started practicing late Thursday afternoon to groove up the track into race condition.

JConcepts Photo Gallery
Friday morning practice started at 9am with alternating sessions between 1/8th and 1/10th as the track built up speed. By mid afternoon the entire pits were full with drivers and the outside parking lot was packed with tents, trailers and vehicles. Race director, Nick Black, filled the computer with the latest entries while Lance MacDonald controlled the practice session to ensure timely runs and turn marshal participation. The heats were set and the drivers meeting started promptly at 3:30pm with an announcement of the largest event ever at Flowood R/C Park tipping out at 300 entries. The brief meeting concluded and drivers prepped for the 1st round of qualifying which started at 4:00pm.
Qualifying was a heated affair in the 1/8th classes and Tyler Jones emerged as the TQ in the expert nitro class with his JConcepts equipped TLR 8ight 3.0 buggy. JR Mitch took top honors in the 1/8th e-buggy and 4×4 SCT classes with the JConcepts equipped TLR 8ight-E 3.0 and TLR SCT-E 2.0 vehicles. In the 2wd stock buggy and stadium truck classes, William Ables took the TQ with Dave Duncan 2nd and Riker Gatenby 3rd. 2wd stock SCT belonged to Peyton MacDonald taking the TQ with the JConcepts equipped SC10.2.
In the modified classes it was Dustin Evans taking TQ in the 2wd modified buggy class with the TLR 22 2.0 gripping with JConcepts tires. Modified 4wd buggy and 2wd modified SCT were topped by Ryan Maifield who locked up the overall TQ in each with the Team Associated B44.2 and SC10.2 topped and fitted with JConcepts. In the Modified stadium truck class, Cody Hollis rose to the top of qualifying locking up the pole position with the TLR 22T utilizing JConcepts Bar Codes in green compound.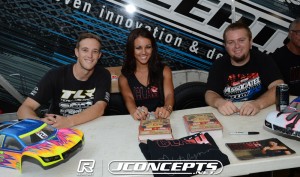 During a break in the action an autograph session was held in the JConcepts pit area allowing racers to get their souvenir cards signed by Ryan Maifield, Dustin Evans and 2013 Clash girl Katelynn Ansari. Each racer received a complimentary raffle ticket and a chance to win an autographed Nationals SCT body or Katelynn autographed 2013 Clash T-shirt. Qualifying completed ahead of schedule on Saturday evening allowing drivers to wrench, socialize or grab that group dinner that everyone loves at these type of events.
Sunday's schedule consisted of bump-ups earlier in the morning with drivers being given the opportunity to catch those last 2 positions in the A-main of each class. Nick Black quickly ran through the main events with a slight break in the action before heading into the triple A-main events for electric and 30 minute mains in the nitro classes. The consistency of the track had reached its peak and the groove was in great condition heading into the feature events allowing drivers the peace of consistency.
2013 Clash highlight video with interviews
1/8th 30 minutes A-mains –
The 1/8th nitro buggy expert portion of the event was highlighted by TLR / JConcepts and top qualifying driver Tyler Jones who drove flawlessly until lap 45 where he encountered a problem and forced off the track. Jake Dellinger who was fresh off a great ROAR Nationals result found himself moving from 2nd to the lead where the RC8.2 handled extremely well while Jake was focused in the lead. Dylan Gerard was running well and tried to pressure Jake into a mistake by maintain an upbeat pace but the leader did not crack. Ty Rogers recovered after a poor started and caught up to 4th and eventually 3rd with only traffic affecting his gap to the leaders. Pit strategy shuffled the pack but eventually led to drivers stacking up in final racing order. Crossing for the well deserved victory, Jake Dellinger took 1st place, Dylan Gerard finished 2nd and Ty Rogers 3rd after a grueling 30 minutes of racing.
Triple A-main events – A1's
A1's started with Dave Duncan picking up a quick win in the stock stadium truck and 2wd stock classes. Riker Gatenby and Marc Hoster finished 2nd and 3rd in truck while in the buggy main Derek Richtsmeier and Brian Shumate picked up 2nd and 3rd. Cody Hollis picked up the win in the modified stadium truck class with Daimon Borkowicz in 2nd and Rhett McNair 3rd. 1/8th E-buggy finished A1 with JR Mitch taking a relatively easy victory, Jake Dellinger finished 2nd and John Bernard Jr. 3rd. Peyton MacDonald took the first A in the SCT stock class with Riker Gatenby 2nd and Derek Richtsmeier 3rd.
Ryan Maifield got a great start in the 2wd modified SCT A1 and maintained his consistent pace to the finish taking a relatively quick victory over Dustin Evans who finished 2nd and Paul Wynn 3rd. The 4×4 SCT modified A1 was all JR Mitch who checked out and maintained his quick pace through traffic earning an A1 victory. John Bernard finished 2nd and Martin Harrison 3rd. 4wd modified buggy A1 began with Maifield getting a comfortable lead but while pushing the B44.2 hard through the chicane clipped the pipe and suffered breakage. Dustin Evans took the lead and Daimon Borkowicz took over the 2nd position. Maifield's vehicle was repaired by a turn marshal and he moved through the field to regain 3rd place. A1 finished with Dustin Evans taking 1st, Daimon Borkowicz 2nd and Ryan Maifield 3rd.
The 2wd modified drivers took the track for A1 and off at the tone it was Dustin Evans leading the pack from TQ position. Ryan Maifield closed up on the rear bumper of Evans and the 2 drivers pulled the field very quickly. Max Flurer and JR Mitch battled for 3rd with Daimon Borkowicz pulling in briefly for a look. Evans bobbled allowing Maifield to take advantage and jump into the lead where he looked comfortable driving the Centro converted B4.2 with blue compound Bar Codes gripping the track. At the finish Evans made a run to finish just 2 seconds behind taking 2nd and Max Flurer emerged over JR Mitch to take 3rd.
Triple A-main events – A2's
A2's began with Riker Gatenby taking the stock stadium truck victory over Dave Duncan who finished 2nd and TQ William Ables 3rd. During A2 of 2wd stock buggy, Dave Duncan leaked out into the lead and his preparation had paid off as the consistency of his buggy allowed an easy A2 victory wrapping up the first championship of the day. Alex Treber finished 2nd and Derek Richtsmeier took 3rd. Leon McIntosh edged out Cody Hollis during A2 of modified stadium truck extending the overall to a 3rd A-main. Finishing 3rd was a quick Zack Genova who converted after a poor start to take a great finish. The TLR 22T's of McIntosh and Hollis looked to be the drivers to beat entering A3.
1/8th E-buggy quickly became the most intense class of the mains and after a sketchy beginning to the main, Justin Cranford emerged in the lead on lap 1 and held it to the finish. JR Mitch fell to 5th on lap 1 and began making up serious time on Jake Dellinger (2nd) and Tyler Jones (3rd) but it took almost the entire race to overtake and eventually pull into 2nd. JR Mitch finished in 2nd and Jake Dellinger 3rd setting up an A3 main event battle. 2wd stock SCT was a serious battle with Peyton MacDonald just edging out Riker Gatenby at the finish line to take the overall championship in 2 mains. Riker took 2nd in A2 and Derek Richtsmeier finished 3rd.
Ryan Maifield led out in the 2wd SCT modified A2 and Dustin Evans followed closely. The race was on between the 2 Clash drivers and Maifield looked to look up the championship. Dustin was the first to make a small mistake allowing the ROAR National champion a little breathing room up front. Dustin dropped the hammer and made up distance on the Arizona native but it just wasn't enough as Ryan took A2 by 1.4 seconds wrapping up his 1st championship of the day. Dustin Evans finished 2nd and Kyle Hollinger 3rd. A2 of 4×4 SCT was all JR Mitch, the Florida driver put the power down with the JConcepts equipped TLR SCT-E 2.0 and cruised to the overall championship. 2nd qualifier, John Bernard Jr was in great position and battled all main long with Martin Harrison and Justin Fales for 2nd place. John was up to the task and edged out 2nd place over 3rd place Martin Harrison.
The 4wd modified A2 event was all Maifield. After a mistake which caused some breakage, Dustin Evans was forced out of competition allowing Maifield to stretch a huge lead. The race for 2nd and 3rd was very competitive with Genova, Arrieta, Eckert and Kingsbury all enjoying some success. At the finish Maifield cruised to an almost 1 lap victory over Zack Genova in 2nd and Alfredo Arrieta in 3rd.
The 2wd modified A2 was easily one of the best races of the weekend. TQ Dustin Evans took an early lead but it wasn't long before Maifield made a move after the triple jump to take over the lead. Evans didn't back down and chased Maifield for many minutes not allowing any space between the rear bumper of the Associated and front of the TLR vehicle. During lap 11 Evans squeezed the TLR inside of Maifield on the top left side of the track and took the lead heading down the drop-down section and into the front jumps. Evans looked to have found his groove and rolled off many low 21 second laps to hold the lead. Maifield made a last lap pass attempt but hit the top right corner allowing Evans the space he needed to claim A2 victory. Dustin Evans took the victory, Ryan Maifield finished 2nd and Ryan Eckert 3rd.
Triple A-main events – A3's
A3 of Stock Truck was completely up for grabs with multiple drivers capable of winning the overall. TQ William Ables grabbed the early lead and held against Derek Richtsmeier who was running up front all weekend. Dave Duncan with a 1st and 2nd already in the bag remained consistent but didn't force the issue looking to win the overall. William Ables finished off A3 taking the victory over Derek Richtsmeier 2nd and Dave Duncan 3rd. Dave Duncan claimed the overall championship, Riker Gatenby finished 2nd and William Ables 3rd.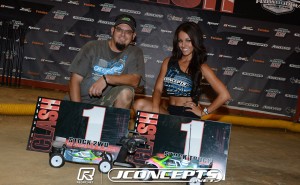 Modified Truck A3 started by Cody Hollis taking the lead and smoothly opened up a small gap. Zack Genova running his best main of the event applied some pressure to Cody but small mistakes dropped him back and off the leader. Genova and Borkowicz raced closely until back to back mistakes by Borkowicz allowed Genova the space he needed to maintain 2nd dropping Daimon to 3rd. Finishing with the win, Hollis took the overall championship with Zack Genova taking 2nd and Daimon Borkowicz 3rd.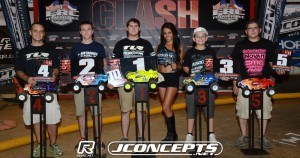 1/8th E-buggy was the center of focus while JR Mitch looked to get a great start, it was anything but that as on lap 2 JR had to endure a 33 second lap which dropped him down to 11th. Justin Cranford was on a mission and grabbed the lead after the chaos and the JConcepts equipped Durango was on point. Justin turned lap after lap in the lead letting Chris Viesins, Jake Dellinger and JR Mitch to battle from 2nd – 4th. Chris, Jake and JR each took a shot at turning the fastest lap of the main event and Mitch was able to best it with a 20.9 second lap. Justin took the A3 win, Chris Viesins 2nd and Jake Dellinger 3rd. After overall results were tallied, Cranford scored the victory, JR Mitch took 2nd overall and Jake Dellinger 3rd.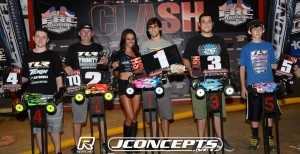 4wd modified A3 was set to be a battle once again between Maifield and Evans. Maifield jumped into the lead from the pole position and powered down on the JConcepts equipped B44.2. Evans paced Maifield for several minutes until a mistake dropped him several seconds back. Maifield was on fire in this main and wasn't going to be denied dropping a 20.4 lap time on his way to the A3 victory. Dustin Evans took 2nd and Cody Hollis 3rd and Daimon Borkowicz 4th. With 2 victories, Maifield scored the overall championship. Dustin Evans finished 2nd and Daimon Borkowicz 3rd all running the JConcepts blue compound Bar Codes to grip the surface.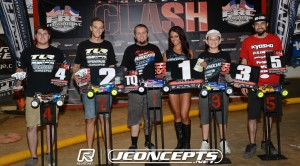 The 2wd modified championship hung in the balance while the top 2wd modified drivers took the track. Evans took the quick start and led the field around for most of the first lap. Dustin's TLR hit a small hole on the top right corner and bounced wide allowing Maifield an inside look which he punched the throttle and dropped into. Maifield led them around the first lap and Evans hotly contested throughout the first minute. Evans hooked a pipe on the left elevation and dropped into the infield island and Maifield escaped with a large lead. Maifield was gone and turning quick laps pushing out the lead. Evans recovered to turn quick laps of his own but the gap was just too sizeable to reel in. A3 finished with Ryan Maifield taking A3, Dustin Evans crossed for 2nd and JR Mitch 3rd. Taking A1 and A3, Maifield picked up the overall 2wd modified championship taking a clean sweep of the weekend for Team Associated / JConcepts. Dustin Evans, finished 2nd and earned the TQ with a great weekend performance. JR Mitch with two 3rd place finishes took the last podium spot and placed 3rd for the weekend.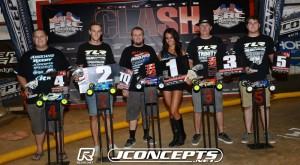 A huge thank you goes out to the Bubba Barham, Greg Gatewood and the entire Flowood RC Park crew as great hosts for the annual event. Nick Black and the JConcepts Events crew has to be given a proper shout out for the tightly managed program finishing well within schedule. Thank you to the all racers who made a record setting turnout at Flowood R/C and event sponsors, JConcepts, Team Associated, Reedy, ODonnell fuel, Team Durango, Maniacs Hobby Complex and Futaba. See everyone next year!
Check out more race videos from RedRC.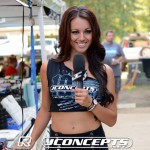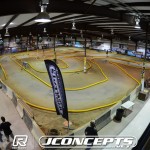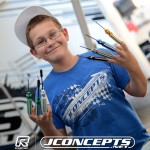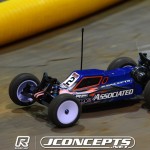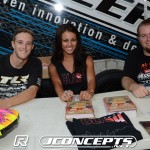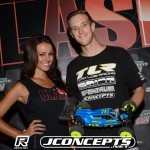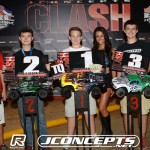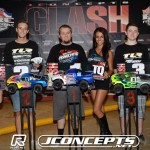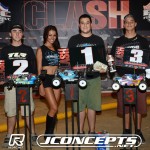 Photos Courtesy – RedRC.net
JConcepts winning products:
· 3016-01 – Bar Codes – blue compound
· 3017-01 – Bar Codes – blue compound
· 3020-01 – Bar Codes – blue compound
· 3021-02 – Bar Codes – green compound
· 3043-02 – Double Dees – green compound
· 3044-01 – Bar Codes – blue compound
· 3049-02 – Pressure Points – green compound
· 3048-00 – Hybrids (1/8th buggy) – yellow compound
· 0212 – Finnisher B4.2 body
· 0222 – Hi-Flow SCT body
· 0248 – Finnisher B44.2 body
· 0252 – Finnisher T4.2 body
· 0265 – Finnisher C4.2 body
· 0122 – Illuzion – 6.5″ Hi-Clearance wing
· 2012M – JConcepts matte vehicle stand
· 2037 – Racing Bag – Small (includes plastic inner drawers)
· 2056 – Racing Bag – medium (includes plastic inner drawers)
· 2136 – 5 and 10gm stick-on weight set
· 2043M – JConcepts – Advanced Formulated Tire Glue – Medium
· 2075 – 8/32″ locking wheel nut – fits B4, T4, B44 and SC10 – locking / lightweight (blue)
· 2098 – 48 pitch, 81T, SS Machined Spur Gear – fits B4.1, T4.1, B44.1 and SC10
· 2099 – 48 pitch, 84T, SS Machined Spur Gear – fits B4.1, T4.1, B44.1 and SC10
· 2139 – JConcepts – body clips – black – medium size -12pc.
· 2158 – B4 / T4 / SC10 aluminum steering bell-cranks – blue
· 2159-2 – B4.1 aluminum wing mounts – black – 2pc
· 2160-1 – JConcepts – Associated battery hold down thumb nut – blue (fits B4.1, T4.1, B44.1 and SC10)
· 2167 – 8/32″ thin-pattern locking wheel nut – fits B44 front – locking / lightweight (blue)
· 2169T – Titanium B4 front axle for 12mm hex conversion (requires #9880 AE steering block)
· 2170T – Titanium T4 front axle for the 12mm hex conversion
· 2171T – Titanium SC10 front axle for the 12mm hex conversion
· 2133 – JConcepts pit mat
· 2192-1 – Reedy Sonic motor timing cover – sensor wire protector – blue
· 2204 – JConcepts radio bag – Futaba 4PK
· 2209 – JConcepts roller bag
· 2225 – B4 generation Fin turnbuckles et – 6pc.
· 2226 – T4 / SC10 generation Fin turnbuckle set – 6pc.
· 2227 – B44 generation Fin turnbuckle set – 6pc.
· 3344B – Hazard – 12mm +3mm SC10 F&R wheel (black) – 2pc
· 3352Y – Hazard – 12mm TLR SCT-E 2.0 F&R wheel (yellow – 2pc
· 3347 – Mono – B4.1 | RB6 – 12mm hex front wheel (white) – 4pc
· 3348 – Mono – B4.1 | B44.1 | RB6 – 12mm hex rear wheel (white) – 4pc
· 3349 – Mono – B44.2 – front wheel (white) – 4pc
· 3357 – Bullet – 1/8th buggy 83mm wheel (white) – 4pc