2013 DHI Cup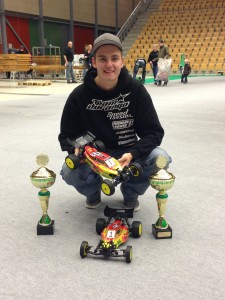 Jörn Neumann takes the win in 2wd and 4wd buggy at the 2013 DHI Cup in Odense, Denmark.
Last weekend was the DHI Cup in Odense, Denmark. The event is held over three days and includes on-road and off-road racing on two separate tracks. On Friday there was practice and one round of qualifying. After a few minor set-up changes Jörn was ready for qualifying.
Jörn went on to TQ three out of four qualifying Rounds, which put him 1st on the grid in both classes. Triple A-Mains were held on Sunday. The 4WD finals were perfect, with Jörn winning the first 2 mains. In 2nd, it was Martin Bayer and 3rd Tom Cockerill.
2WD was a little more work for Jörn after crashing into a lapped driver on the main straight in A2, which broke his front A-arm. Jörn was able to win A1 and A3, to get the overall victory in 2WD, followed by Tom Cockerill in 2nd and Martin Bayer in 3rd.

JConcepts products:
#0233 – Finnisher Body and Wing DEX410
#0228 – Finnisher Body DEX210
#0124 – Illuzion 6.5 wing