2013 Cactus Classic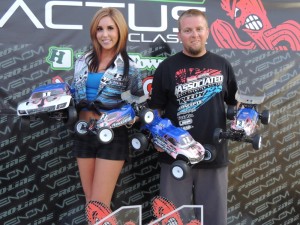 Ryan Maifield and JConcepts once again dominate at 27th annual Cactus Classic.
Race: 2013 Cactus Classic
Track: SRS Raceway – Scottsdale, AZ
Date: March 15-17, 2013
JConcepts closes the books on another successful weekend at the Cactus Classic in Scottsdale, AZ, at the famous SRS. JConcepts was trackside in full effect to support the team all week, including guest appearance by spokes model, Kristiana. The JConcepts team is always quite large at the Cactus Classic and this year was no exception. JConcepts driver, hometown hero, Ryan Maifield was looking to repeat and three-peat his previous successes. Busy racing in 4 classes, Maifield relied on assistance from pit guy extraordinaire, Jake Thayer, and JC's own Jason Ruona.

2wd modified –
During qualifying it was apparent that everyone was ready and looked to put on their best performance. Naoto Matsukura, Jared Tebo, Jorn Neumann and Dustin Evans entered qualifying in the 2wd modified class all utilizing the mid-motor configuration of their respective vehicles. The Maifield and Cavalieri show worked diligently, competing on the high-grip surface with their standard B4.2 vehicles. Early in qualifying, Matsukura and Tebo had the upper hand with each recording a TQ run which all but clinched the top 2 positions. Ryan Maifield battled back into contention TQ'ing the last round of qualifying with the Finnisher and Hi-Clearance wing outfitted B4.2 and earned a 3rd position for Sunday's A-main events.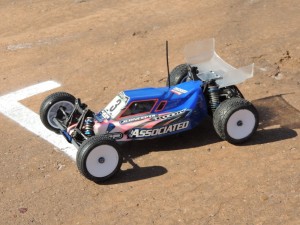 A-1 began with Naoto getting a great start but a small bobble allowed Tebo to jump into position and wedge his way into the lead. Tebo, for all intents and purposes, was checked out and the battle was on for 2nd-5th. Maifield appeared to have the quickest car of the group but small mistakes kept him out of 2nd and even after a few brilliant passes was restricted to battle for 3rd and 4th for the majority of the race. During the last several laps the battle for 3rd raged between Cavalieri and Maifield with Maifield making a risky pass on the last turn to finish 3rd overall. Jared Tebo took the important A-1 win with JConcepts drivers Dustin Evans 2nd and Ryan Maifield 3rd.
A-2 was a battle straight from the get-go. Naoto looked smooth and consistent in this event leg and challenged the veteran Tebo to the limit. Maifield moved through the pack once again and made himself a factor heading into the last laps of the race. Maifield made an unbelievable pass on one of the dots just after the start finish line but the move placed him on the outside for the next 180 degree turn allowing Tebo to throw the Kyosho RB6 into the corner and make a move that stuck for the next several turns. Tebo finished off the event earning the championship by only 4 tenths of a second over a charging Maifield. Naoto finished 3rd setting up a battle in A-3 for the rest of the podium positions.
A-3 had Naoto once again jumping into the lead but Maifield was stuck to his rear bumper and following for several laps. Naoto made a mistake and just like that Maifield was gone. The Finnisher and Hi-Clearance equipped B4.2 checked out running some of the quickest laps of the event and with the A-3 victory secured 2nd place overall. The TLR / JConcepts supported driver, Dustin Evans finished 3rd overall.
4wd modified –
A-1 began with Cavalieri running extremely smooth and consistent. Jorn Neumann and Ryan Maifield battled for the 2nd and 3rd position which allowed Cavalieri to extend a small gap. Jorn rolled his buggy just in front of the drivers stand allowing Maifield to take over control of 2nd place and put a chase down on Cavalieri. Maifield narrowed the gap and pulled right up on Cavalieri. A roll-over from Cavalieri put Maifield into the lead and Jorn Neumann into 2nd. The 2 JConcepts drivers battled to the finish line with Ryan holding the inside line on the last corner and applied power across the finish to take an exciting A-1 victory with the B44.2.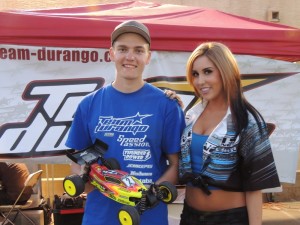 A-2 was another hotly contested battle between the 3 quickest drivers in the class. Once again the main was led out by TQ Ryan Cavalieri but Jorn and Ryan would not go away. Maifield once again appeared to be the fastest but a couple of quick crashes which he landed back on his wheels made the race much more exciting. Maifield did not give up and made his way around Jorn and then set his sights on Cavalieri. Just when Maifield moved into a serious battle with Cavalieri, Cavalieri made a mistake and rail slid an infield pipe and flipped over having to get assistance from a turn-marshal. Maifield was once again gone and in the lead and looking to close-out his first overall championship of the day. Crossing the finish line Ryan received a huge applause from the crowd and an immediate interview with race announcer Scotty Ernst, Ryan released some emotion showing some serious love for his hometown friends and family. The Finnisher, Hi-Clearance and JConcepts outfitted B44.2 was on point all weekend and especially A-3 where Ryan turned the fastest lap of the weekend a blistering 20.1 second lap-time.
A-3 was a tight battle with Cavalieri and Jorn Neumann for 2nd place overall. Jorn grabbed the lead after small bobbles from Cavalieri placed him back slightly in the field. Jorn powered down the Durango topped off with Finnisher body and Hi-Clearance wing for the A-3 win and 2nd place overall. Ryan Cavalieri settled for 3rd place overall behind the powerful JConcepts duo.
Modified truck –
In the Modified truck class it was the Ryan, Ryan, Dustin and Jorn show as 4 of the most talented drivers in the event lined up 1st – 4th on the starting grid with Ryan Cavalieri earning the TQ position. 2nd – 4th position chose the JConcepts Pressure Points tires in the groove condition orange compound.
As the A-1 started it was Ryan Cavalieri grabbing the quick start and holding a nice lead. Maifield powered down on the T4.2 racing truck and narrowed the gap slightly. Cavalieri made a mistake allowing Maifield by and into the lead. Maifield wasted little time and efficiently pulled away from the pack to secure the A-1 victory. A-2 belonged to Jorn Neumann and the JConcepts equipped Team Durango truck. After both Maifield and Cavalieri had their moments up front it was Jorn who emerged into the lead and opened up a sizeable gap on the rest of the field. Modified truck would go to a 3rd A-main to decide the overall championship.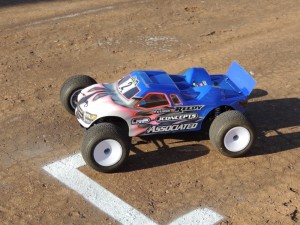 A-3 began with Cavalieri making a bobble on the first turn allowing Maifield to jump inside and lead the first lap. It didn't take long for Cavalieri to move back into contention and challenge for the victory but Maifield maintained the lead. Maifield took advantage of his lead position and put down some of his quickest laps of the weekend to pull away at the finish and dominate A-3 in front of his home crowd. Immediately following the race the Team Associated pit area was packed with congratulations for the Arizona based driver winning another championship for the JConcepts / Team Associated teams. Pressure Points in orange compound proved to be the 1-2 combination to have with JConcepts teammate, Jorn Neumann finishing 2nd overall.
2wd SCT modified –
Ryan Maifield dominated qualifying in the 2wd SCT modified class with the SC10 FT vehicle. The quickest SCT driver in the nation wrapped up TQ in round 4 with one of the fastest runs of the weekend and a rare 15 lap run in the SCT class. During the main events the conditions changed slightly with the Arizona wind kicking up a notch. Ryan Maifield easily won A-1 and looked confident heading into A-2 with the fastest vehicle on the track.
During A-2 it was Maifield once again who had a nice lead which he battled for slightly with Ryan Cavalieri and Ryan Lutz. It was the Ryan, Ryan and Ryan show but Maifield had the edge in lap-times and speed. A-2 looked just about wrapped up for Maifield when small wind gusts affected his triple jumping ability and a tumble ultimately cost him the A-2 victory. Ryan Cavalieri won A-2 after the gusty episode causing the rest of the drivers to scratch their heads and look over their vehicles heading into A-3.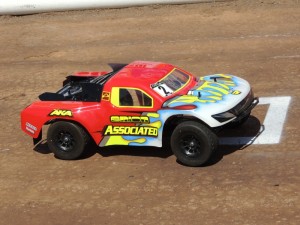 A-3 started and played out very similar with Maifield holding off all charges from the other Ryan's holding a nice gap on 2nd and 3rd heading into the last several laps. Maifield once again had issues on the triple jump and wasn't able to land smoothly allowing Cavalieri to pass on the mistake. The 2 leaders, both utilizing the JConcepts Hi-Flow body were having very different success on the triple jump and ultimately Cavalieri would land smoothest on the last 2 laps and take his only Cactus championship of the 2013 event. Ryan Maifield finished 2nd with the JConcepts equipped SC10 FT and Ryan Lutz 3rd with the Durango.
Short Course buggy class –
XFactory / JConcepts driver Alex Krieg was the leader of the class for the Short Course Buggy class. Alex set overall TQ in 2 rounds to secure the top grid position and then easily led the 10 minute A-main from start to finish to secure the first ever SCB championship at the Cactus Classic. Alex's XFactory buggy was outfitted with JConcepts orange compound Bar Codes and Pressure points mounted on Hazard wheels to dominate the competition.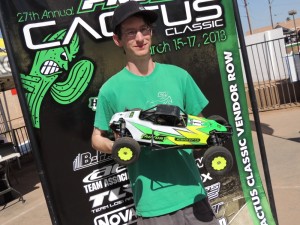 Congratulations go out to all the winners at this year's Cactus Classic. A special thank you to the SRS / Hobbytown crew on a terrifically organized event and great atmosphere. Another shout-out must go to Scotty Ernst on yet another time sensitive finish and well run race program throughout the weekend. The JConcepts crew welcomes this event each year and we are already looking forward to next year's 28th annual.
JConcepts product release and race highlight video
JConcepts winning products:
· 3062-04 – Pressure Points – orange compound
· 3044-04 – Bar Codes – orange compound
· 3049-04 – Pressure Points – orange compound
· 0212 – B4.2 Finnisher body
· 0122 – Hi-Clearance 6.5" B4 / B44 wing
· 0222 – Hi-Flow SCT body (Slash, Slash 4×4, SC10 4×4, Losi SCT-E)
· 0248 – Finnisher B44.2 body
· 0252 – T4.2 Finnisher body
· 2012M – JConcepts matte vehicle stand
· 2102 – JConcepts – 1/10th, 1/8th and SCT Striker setup board w/ foam pad
· 2136 – 5 and 10gm stick-on weight set
· 2043M – JConcepts – Advanced Formulated Tire Glue – Medium
· 2075 – 8/32″ locking wheel nut – fits B4, T4, B44 and SC10 – locking / lightweight (blue)
· 2062 – T4.1 Monroe Carbon Fiber battery brace
· 2139 – JConcepts – body clips – black – medium size -12pc.
· 2158 – T4.1 aluminum steering bell-cranks – blue
· 2160-1 – JConcepts – Associated battery hold down thumb nut – blue (fits B4.1, T4.1, B44.1 and SC10)
· 2164 – JConcepts – SC10 rear body mount brace
· 2165 – Associated Carbon Fiber Hub Tower A, B and C (fits aluminum hub carrier)
· 2167 – 8/32″ thin-pattern locking wheel nut – fits B44 front – locking / lightweight (blue)
· 2170 – T4.1 front axle for 12mm hex conversion (requires #9880 AE steering block)
· 2171 – SC10 front axle for 12mm hex conversion (requires #9880 AE steering block)
· 2081 – JConcepts – 12mm rear hex adaptor for SC10
· 2091 – 12mm rear hex adaptor for B4.1, B44.1 – blue anodized aluminum
· 2133 – JConcepts pit mat
· 2204 – JConcepts radio bag – Futaba 4PK
· 2212-1 – JConcepts – 1/10th Satellite tire gluing rubber bands – blue – fits 1/10th, SCT and 1/8th buggy
· 2242 – JConcepts – B44.2 aluminum bulkhead cap – blue
· 2226 – T4.2 Fin Titanium turnbuckle set
· 2227 – B44 Fin Titanium turnbuckle set
· 3344B – Hazard – +3mm SC10 front and rear wheel (black) – 2pc.
· 3348 – Mono – B4.2 12mm hex rear wheel (white) – 4pc.
· 3349 – Mono – B44.2 front wheel (white) – 4pc.
· 3354W – Mono – T4.1 – 12mm hex F&R wheel – white – 4pc.
· 3217-1 – Profiled – SCT insert – medium / grooved – 2pc