2012 Worlds – Weekend Recap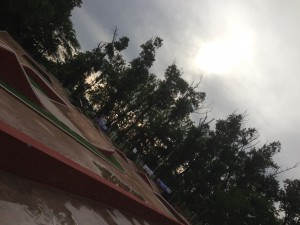 Friday Update
By: Allison Ruona
Today has gone quite smooth and relaxing, Arrival was quite smooth and we're at the hotel now, we landed this morning, processed our visas, found our luggage – took a while with all of our bags, turns out one bag never left Miami, ooops. So much for that tip (propina) I gave to the guy at curb-side check-in. But the bag should show at some point. The new papers provided to us by the race organizers were helpful and we cleared the feared customs with only a few questions. I told the agent we made the tires, and she said "oh, homemade ok"

Leaving the airport, we joined the masses, it was extremely busy. We managed to get a free ride to the hotel with the courtesy shuttle, but since it was free it meant we had to wait what seemed like forever. Good thing we weren't in a hurry. We checked in to the hotel and greeted other drivers, Jörn, some of the British guys, and TLR.
After getting our stuff settled in our room we went to bar/ lounge, some of the guys were already having drinks, we got some lunch – bar menu is small but it works, sandwiches, salad, y papas frites.
We walked across the street to check out the track with Brent, Saxton and Tebo, a little water but it should dry up nicely as long as there is no more rain. Apparently there is a river near by, just over the hill, which caused the previous flooding. Work was still being done at the track, additional tents / tables still going up.
As earlier pictures showed, the track is right across the street from the host hotel – Holiday Inn. We walked up from the hotel, through a very busy shell gas station parking lot, across a small street to the large stairs and walking bridge. What is hard to see in other photos is that the walking bridge is very immense and spans at least 6 lanes of a very busy highway. All that aside, it's not a bad walk, but hard to carry a bunch of gear back and forth.
We started with beer/ cocktails in the bar before Dinner and the hotel restaurant opened at 8pm.
Saturday Update
By: Jason Ruona
Officially, today is the first day of the IFMAR World Championships. Drivers are getting settled into their individual pit spots at the track and starting some pre-practice wrenching. Appears to be around 180 entries and a program set around 12. One of the strange things so far is the pit area which puts everyone together under the provided permanent pit area where teams are pitting right next to each other. This is relatively awkward and different than what we are accustomed to because there will really be no secrets unless we all spread out. (Update, AE now has their own pits under tents away from the track) 2010, in Thailand we rented storage containers which cost roughly $800 a piece which was somewhat inexpensive considering they were covered and air conditioned. Storage containers were offered here but with a price tag of $3400 each, not many teams were jumping on them at that price. I see 5 containers at the track right now..$17,000? Ouch.
Sitting here in the middle of the pits, wow, everyone is so restless. Guys are moving their engine running and break-in closer and closer to the track all the time. I'm sure 2 hours before practice heat #1 guys will be running their cars on the pit lane. Big time nervous energy right now.
I've noticed a lot of competitors / friends are really interested in what the AE guys are doing now. A lot of interest considering Mugen and Kyosho were dominant at the warm-up. I think we are getting some driver respect at the moment.
Looks like the first guy being interviewed at Neobuggy is the defending champion, Cody King. Cody seems relaxed and not really under any undue pressure which is nice to see. Being here reminds you of how many good drivers and teams Cody beat last time.
The driver flying most under the radar appears to be Hara who is on a pretty serious World Championship roll the past couple of on-road events. This guy is the real deal folks. 1st in 2008, 2nd in 2010 and his latest on-road results where I believe he finished 2nd and 2nd? He hasn't had the track time here as he had at the other off-road worlds but I'm keeping my eye on this guy.
I see experience coming from Maifield, Tebo and Cavalieri at this event. No more are they happy or new at being at World Championships. They are here for business. No longer is it welcome, its more like welcome back. You can see the focus.
The MBX-7 car remains kind of a mystery. Seems as though they always release a new vehicle just before the worlds and its also available to the public shortly there after. Definitely the ideal setup for consumers but leaves the drivers with less testing time. I'm sure the better drivers will have plenty of wheel time but it'll be interesting to see how the vehicle performs and if the performance can inspire some sales straight away. (Update, I received a walk-around on the MBX-7). Courtesy of the Pettits they briefed me on all the new features of the vehicle. Interestingly they spread out the weight more around the engine and brake assembly making the vehicle a little wider around the side-guards. It has revised front geometry and a wider rear pivot / shorter A-arm setup. A lot of updates but its hard to recognize all of them because the Mugen components are always designed in a way that makes the vehicle look like its previous versions.
Jörn Neumann walked me around the new Durango prototype buggy and explained several of the features. It's an all new prototype borrowing some parts / features from the Kyosho and Mugen to complete the vehicle. Our Finnisher TLR 8ight body seems to be the choice for Jörn, Carson and Lutz is using the Punisher body. Jörn seems extremely confident and I see him being very quick on this track.
The Kyosho guys appear settled on their latest vehicle with small accessory type tuning items. Expect some serious noise from Tebo, Ronnefaulk, Boots and Aigoin.
Sunday Update
By: Allison Ruona
I think it's Sunday… The fact thats its December though is mind-boggling. Technically its only Day 2, Everyone is already showing signs of wear- in the form of sunburn and meal contemplation. As Americans we were excited to order a cup of ice today (Hielo). It's pretty warm – up to 95 under the tent, heard the weather will be a little cooler later this week. Yesterday after being at the track, Maifield, Jake, Cav, Jason and I stopped at the Shell station and got ice cream, I think that was a highlight of their afternoon.
Things are starting to get more serious today with 3 rounds of practice and lap times will count tomorrow, best 3 laps to establish qualifying rounds.
Of course teams are still counting lap times today too, I don't think there is any surprise who the top drivers are. With the dusty track though its pretty rough conditions and some spots of the track are shaded and some in full sun – it's almost a 20 degree difference from the shady area under the tree to the hot concrete bridge. Our guys are liking the new Metrix tires too and the dust was a little better today than yesterday.
I got our lost bag back from American Airlines, a bag got left behind in Miami somehow. About 5 phone calls later it shows! They delivered it to the hotel with no customs problems thank goodness. My name tag was on it though, and they told me they only had 100 unclaimed bags in miami, 40 of which were black, but it still took almost 3 days to locate. Oh well, I guess it's like government work. Now we're off to dinner in the hotel restaurant again….
Stay tuned for more updates coming soon.