2012 Worlds – Friday Update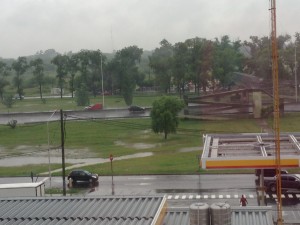 Here in Argentina, it is…some day? Let's go with Friday. As the lower mains will get underway with a wet, but not terrible track. Yesterday's all day Noah-esk rain washed out the final round of qualifying, and perhaps the best call of the week was running three rounds on Wednesday to give us a total of 5 out of the 6 scheduled.
With all day to do nothing, and only napping to escape the boredom, some drivers took the adventure of seeing the city, with slightly flooded street conditions. Others found the pub, for a long day of bench racing. With the top drivers off today, it is more restlessness, and car rebuilding that is taking up much of the day. With a quick walk to the circuit, everyone's eyes will be on the surface. Today is a beautiful sunny day, with a slight breeze, which should get the surfaced back to form. But how bumpy will it be for the later semi-finals tomorrow, as we march to the 1 hour A final?

On the JC front, our own Maifield has settled into a good pace, with a 2 and a 3 for the later rounds placing himself 3rd on the grid in the semi-final. Renato Tradardi has placed himself directly into the semi-final with strong runs, and JR Mitch is near the top of the 1/4 with consistent runs on Wednesday, liking the rough, blown out conditions finishing round 5 with a 10th overall for that round! The team is sitting in good positions to have the most successful worlds to date, for many of our drivers.
The new Metrix tire was Maifield's go-to tire and Renato ran a mix of Crossbows and Metrix. Mitch also ran Metrix in yellow. Barry Pettit also ran Crossbows. The track had some areas of deterioration but a slight groove also came about. All the guys are also running the new Finnisher wing with the gurney. It's a great addition to our arsenal, er, product line-up.