2012 TrackStar Off-Road Championship Grand Prix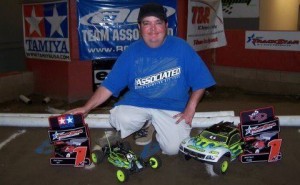 Brian Kinwald strikes again and wins with JConcepts at 2012 TrackStar Off-Road Championships.
Event: 2012 TrackStar Off-Road Championship Grand Prix
Date: November 3 , 2012
Track: SDRC Raceway – San Diego, CA
SDRC Raceway in San Diego, California hosted its first annual TrackStar Off-Road Championships where many quick Southern California racers often do battle on a weekly basis. Brian Kinwald made the trip over from Phoenix, Arizona, to compete against some of best SDRC racers with his JConcepts equipped Team Associated vehicles.

At the end of the weekend it was the "Dirtinator" who crossed the finish line first, taking both 2wd modified buggy and SCT. Kinwald was challenged all weekend and especially during the main events but experience, patience and solid decisions led to another 2 class sweep for the legendary racer.
Special thanks goes out to SDRC on a fine event and popular racer destination in San Diego.
Photo courtesy – RC Insider
JConcepts winning products:
· #3017-05 Bar Codes 2.2″ buggy front wheel – Gold Compound
· #3016-05 Bar Codes 2.2″ buggy rear wheel – Gold Compound
· #3347Y Mono – B4.1 | RB5 – 12mm hex front wheel
· #3348Y Mono – B4.1 | B44.1 | RB5 – 12mm hex rear wheel
· #0212 Illuzion – B4.1 +8mm Finnisher worlds body
· #0122 Illuzion – 6.5″ wide Hi-Clearance wing
· #2091 12mm rear hex adaptor for B4.1, B44.1
· #2135 12mm front clamping hex adaptor for B4.1
· #2075 8/32″ locking wheel nut
· #2159-1 B4.1, T4.1 aluminum wing / body mounts (Blue)
· #2158 B4.1, T4.1 and SC10 aluminum steering bell-cranks
· #2161 B4.1 +8mm Monroe Carbon Fiber battery brace
· #3044-02 Bar Codes SCT Green Compound
· #3049-05 Pressure Points SCT Gold Compound
· #0222 Hi-Flow SCT body
· #2134 12mm front clamping hex adaptor for SC10
· #2081 12mm rear hex adaptor for SC10
· #3344Y Hazard – SC10 / SC10 4×4 – 3mm wider off-set – 12mm hex wheel
· #2163 SC10 Monroe Carbon Fiber battery brace
· #2164 SC10 Carbon Fiber rear body mount brace
· #2167 8/32″ thin-pattern locking wheel nut – fits B44 front
· #2160-1 JConcepts – battery hold down thumb / wrench nut