2012 Super Cup Spring Session Round 3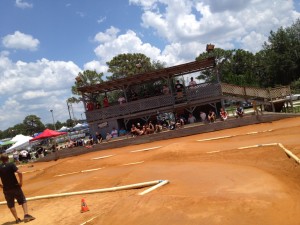 Jason Ruona, Paul Wynn and Dave Duncan win with JConcepts at 2012 Super Cup Spring Session round 3.
This was the second attempt to run round 3 of the 2012 Spring Super Cup Series. Back in March we were able to get things started but before we could complete the first round of qualifying the skies opened up and our racing was done for the weekend. The days leading up to this make-up race were not looking promising. The normal 40% chance of showers on Saturday and some very heavy rains hit the area earlier in the week had some nervous that we would not see a Round 3. With some amazing work by the Hurricane R/C track crew and several volunteers they were able to get the track repaired and in decent shape for Friday practice. Saturday's weather was next to perfect, a little warm but we stayed dry all day. The track came around and everyone had a great day of racing once again.

Race: Super Cup Championship Series # 3
Date: May 19, 2012
Track: Lake Park – Lutz, FL
Stock Buggy
Tracy Carver got things started with a TQ run of 11/5:28 in qualifying. In the A, Tracy Carver had some mechanical issues which left the door open for young Tilar Pollack, Tilar qualified 4th but soon made his way to the front with another young driver Austin Venezia close behind. Final results came down to Tilar finishing in the top spot, Austin in second and Shea Peterson rounding out the podium.
Expert Stock Buggy
Kory Ferguson was the man to beat in qualifying. Kory took the TQ spot with a 11/5:21 run. In the main event, second qualifier Dave Duncan gave Kory a run for his money and finished the A in the top spot with a 11/5:26 run, Kory had to settle for second with Billy Bruce taking third. Dave Duncan's B4.1 buggy was equipped with Finnisher body, Hi-Clearance wing and Rips (front) and 3Ds (rear) tires in sticky green compound.
Modified Buggy
In Mod Buggy it was all Jason Ruona. Jason led qualifying with a TQ run of 11/5:00 and took advantage of his pole position to lead the A final almost un touched. 4th qualifier Ryan Eckert was on Jason's tail for most of the race, swapping the lead a few times. In the end, Jason held on to the win with a 12/5:22 run and Ryan was close behind with a 12/5:25 run. Leon McIntosh held onto the third spot to finish off the podium in this highly competitive class. Jason's B4.1 buggy gripped the dirt all weekend with Rips (front) and 3Ds (rear) tire with the trusty Finnisher body and Hi-Clearance wing topping off the winning vehicle.
Pro 2 Stock
Stock Short Course was once again dominated by Bruce Bennett. Bruce took the TQ spot in qualifying but had his work cut out for him in the main with young Jovan Cruz. Jovan qualified in the 4th spot and with an impressive run finished his race day 2nd in the A. Jeff Lynn took the third spot, Jeff started the A in the second spot after some impressive qualifying runs. Bruce was running on the JConcepts Double Dees in green compound.
Modified Truck
Top Qualifier Leon Mcintosh was untouchable in Mod Truck. Leon had an impressive 11/5:07 qualifying run and took advantage of his pole position to win the A leading wire to wire. The big battle was for the second spot. JConcepts teammates JR Mitch and Daimon Borkowicz fought back and forth almost the entire race. Daimon took the second spot towards the end of the race with JR close behind. It wasn't until the last turn that Daimon rolled his truck allowing JR to get by and take second with Daimon settling for third.
Expert Pro 2 Stock
Billy Bruce showed the way in this class once again. Billy's TQ spot allowed him to win the A with Michael Bruce in second and Kevin Abbott taking the third spot. Billy's Kyosho SCT-R took the win utilizing the Double Dees tire in green compound and topped off with a Hi-Flow body.
Stock Truck
Tilar Pollack was able to take his second win of the day in Stock Truck. Tilar qualified in the second spot right behind the TQ of Bruce Bennett. Tilar and Bruce had a great run in the A but Tilar was able to hold off Bruce and win the A by a close 1.7 seconds. Tracy Carver was able to hold onto his third qualifying position, finishing third for the day.
Pro 4 Modified
One of the bigger classes of the weekend, Pro 4 had some exciting racing once again. Christopher Viesins had an impressive qualifying run giving him the TQ spot. In the A-main, Tyler Coscia moved his way up from the 7th spot on the grid to take the win by a narrow .718 second over second place, Scott Johnson. Andy Darby was able to finish in the third spot with a 11/5:16 run.
Modified 4wd Buggy
This was all Ryan Eckert. Ryan was able to take full advantage of his TQ run and lead the A wire to wire with almost a full lap on the field. Second place went to Chris Intravia and third was Janos Lazar.
Pro 2 Modified
Zack Genova took the TQ spot with a 11/5:22 run but wasn't able to continue that pace in the A Main. Paul Wynn was able to jump to an early lead and battled his way to the win with Ryan Eckert a close second and Daimon Borkowicz finishing up third. Paul's winning SC10 FT was hooked up on Double Dees tires in green compound mounted on black Hazard wheels and topped off with a Hi-Flow body.
This completes the 2012 Spring Session. A big thanks to the Hurricane RC Track crew Joey "Batman" Perez, Pete "The Greek" Mavromatis, Leon McIntosh and especially Ryan Eckert for getting this track race ready in a short amount of time. Super Cup race direction team along with Chad Cason and many others helped to bring everything together and worked extremely hard all weekend. The racing continues in August when we start the Fall session, Race 1 will be August 25th in Sarasota and in the mean time don't miss out on the JConcepts Summer Tour. Visit JConceptsEvents.com for further information on both series. Until next time.