2012 Short Course Showdown Nationwide Tour – Round 5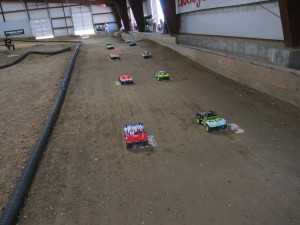 JConcepts is victorious at the 5th stop of the 2012 Short Course Showdown Nationwide Tour.
Event: Short Course Showdown Nationwide Tour – Round 5
Date: August 3-5, 2012
Track: HobbyPLEX – Omaha, Nebraska
Well the weekend started on Friday mornings with practice. The track crew here at HobbyPLEX are really good at keeping the track up. The track is an existing outdoor track that a few years ago they built a building around the track. The new building has a lot of roll up doors around it to let the weather in. The track crew kept it swept and with pump sprayers spraying a mist of water on the driving lane to keep the track from breaking up.
   
The JConcepts team drivers all started with the 2wd Short Course Trucks on 3Ds in Green Compound rear and Blue Compound fronts. Same on the 4wd but with both Green Compound.  As the track started to get run in, we went to Pressure Points rears in Green and Blue Pressure Points in the front. For the 4wd class Blue Bar Codes front and rear worked good and some started using Pressure Points in blue front and rear.
On Saturday day 2, we ran 3 full rounds of qualifying. After round 1, Brian Kinwald was TQ in 2wd mod and Dave Duncan was TQ in 2wd stock. After round 2 and 3 were complete. The standing were the same.
Sunday started day 3 with the final round of qualifying. This race was a fastest round TQ takes it not qualifing points. So round 4 ended, Brian lost TQ by a second in 2wd and will start 2nd in the main. In 4wd Billy Fischer had been sitting in the top 4 for 3 rounds and managed to take the TQ in the 4th round. So all in all JConcepts was starting TQ in 4wd mod and 2wd stock and 2nd starting position in 2wd mod.
In the Mains, Brian Kinwald jumped to the lead at the 2nd turn in mod 2wd and never looked back. After 7 long minutes Brian took the win. Billy Fischer finished with a hard fight for 3rd. In stock Dave Duncan started on the pole, took the start of the race tone and never lost that position and won the race after 7 min. With Jason Hill finishing 2nd. In 4wd Billy Fischer started on the pole, at the start of the race, Billy took off and checked out. Brian had a long 7 min battle with Alex. After the dust settled and the race was over. Billy took the win and Brian finished 3rd.
The facility was especially special, neat and clean with great staff and personality. Thank you to Scotty Ernst, Charlie Suangka, HobbyPLEX and Alex Sturgeon and the entire Showdown crew on an amazing event.
JConcepts products used –
· 3044-02 Bar Codes green compound (SCT front / rear)
· 3049-02 Pressure Points green compound (SCT front / rear)
· 3061-02 3Ds green compound (SCT front / rear)
· 0205 Raptor X-Flow body
· 0222 Hi-Flow SCT body
· 2043M Advanced Formulated Tire Glue
· 2134 SC10 front clamping hex adaptor
· 2081 SC10 rear clamping hex adaptor
· 2076 – 8/32″ serrated wheel nuts
· 3344 Hazard SC10 +3mm wheels (white)
· 3344B Hazard SC10 +3mm wheels (black)
· 3344Y Hazard SC10 +3mm wheels (yellow)
· 3352B Hazard Losi SCT-E wheels
· 2089 4mm serrated wheel nuts
· JConcepts – SC10 Monroe Carbon Fiber battery brace
· 2136 5-10gm stick-on weight sets
· 2139 JConcepts – body clips – black – medium size -12pc.
· 2164 SC10 rear body mount brace
· Silent Speed Spur Gear for AE – 81, 84 and 87
· 3217-1 Closed Cell "Profiled" SCT inserts