2012 ROAR Off-Road Nationals – Update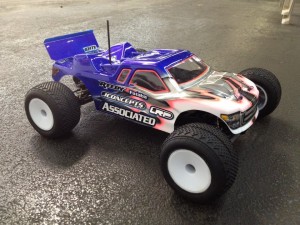 We are only 2 days into the 2012 ROAR Off-Road Nationals but the tension is already there. A lot of differences between years past and this years event but everyone seems to be getting accustomed to the Super Nationals feel.
The ROAR management team and technical inspection seem to be running very smoothly and the West Coast track crew has been on top of everything providing the racers with what they need throughout the first couple of days.

The biggest challenge at the moment seems to be the record heat wave that has moved into southern California. We are sitting in the middle of a big warehouse with very little airflow and approximately 90+ degree outside temperatures. The wet traction surface is giving the building a very stuffy feeling and most aren't experiencing the California they thought they would be. We can't control the weather and everyone is making the best of it.
So far we have had a practice and qualifying day and most are on pins and needles with the track. The temperature has dried out the track considerably and the drivers are making more adjustments to their setup than expected.
In the stock classes ROAR is utilizing a control tire which is the JConcepts gold compound Bar Codes. Kevin Motter and Nolan Anderson have been running extremely well and dominating the stock 2wd buggy and truck standings so far after only 2 rounds. Zack Genova has dominated stock 4wd thus far making it look easy in that class.
In the modified classes Ryan Cavalieri has been on point with his Team Associated vehicles. TQing 5 of the 6 rounds of the modified classes on day 1. Jared Tebo snagged a TQ run in 4wd during round 2 upsetting a pudge day 1 sweep. Ryan Maifield has been spectacular at times but hasn't completed his best run yet so he's has settled for 2nds and 3rds for the round at this point. You would think a driver would feel good about a 2nd but not Ryan. His high standards had him rightfully disgusted which seems strange but what we all love about the guy. Look for him to shine during qualifying day 2.
Dustin Evans with his TLR vehicles struggled in round 1 but regained his form in round 2 looking super solid and getting a 2nd in round 2 of 2wd buggy as he attempts to defend his ROAR National title. An amazing qualifier between him and Kody Numedahl was a pleasure to watch.
A few surprises to keep an eye on are Cody Turner from Kyosho who is very experienced at West Coast and seems to be providing another contender for Kyosho in the A-main qualifier. JR Mitch shows how talented of a driver he is by running with the big boys and pulling a 7th in round 1 despite only his 3rd time on the track at West Coast Raceway. Cody Hollis and Todd Hodge recorded top 10 runs in round 1 of 2wd modified as a bit of a surprise. Hopefully they can get another a move straight into the A-B main mix.
Kody Numedahl gave the current ROAR National Champion Dustin Evans everything he wanted during a round 2 of 2wd. Watch out for Kody with his JConcepts equipped B4.1 in the top 5 here at the ROAR Nationals.
Get this! 100+ entries in the 2wd modified class. 80+ entries in the 4wd modified class and 50+ entries in the Racing Truck modified class. If you want some competition you came to the right place this weekend.
As for JConcepts, we have several new products making their debut this weekend so stay tuned for the video and action release information.
Looking forward to another day of qualifying…. Wish us some luck!