2012 ROAR Electric Off-Road Nationals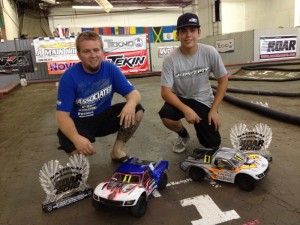 Ryan Maifield scores 3rd ROAR National title in Short Course with JConcepts. Kevin Motter and Zack Genova also earn victories for JConcepts in the SCT and 4wd stock classes respectively.
Event: 2012 ROAR Electric Off-Road Nationals
Date: August 11-19, 2012
Track: West Coast R/C Raceway – La Mirada, CA
Race Reporter: Jason Ruona
2012 ROAR Off-Road Nationals Ryan Maifield video and A-1 highlight
JConcepts T4.1 new product video debut
After a long 10 days, split Super Nationals event, JConcepts established itself as the equipment to beat on the 1/10th Off-Road and Short Course scene. The JConcepts gold compound Bar Codes were chosen for the control tire in the stock classes while the modified classes competed in an open tire race agreement. As usual, JConcepts drivers in the modified classes were on point.

Ryan Maifield, Dustin Evans, Steven Hartson, Chad Due, Kody Numedahl and Brent Thielke put on a great display of driving, placing their JConcepts equipped vehicles directly into the A-mains during the first half of the 2-part event. Ryan Maifield, debuting the Finnisher T4.1 body, Mono 12mm hex wheels and JC front axles on his modified truck, finished off a nice debut in 2nd place overall. The 2wd modified class was hot all weekend and the battle came down to Cavalieri, Maifield, Tebo and Evans. Cavalieri took the first 2 A-mains and earned the National Championship. A-3 was an amazing battle between Maifield, Evans and Tebo for 2nd place overall. Jared Tebo finished in 1st with Maifield and Evans just slightly behind.
The 2wd stock and 4wd stock classes were dominated by JConcepts drivers Kevin Motter and Zack Genova. Kevin, in a class by himself with his Schuur Speed powered TLR 22 took dominating TQ runs all weekend and took the overall championship quite easily on the comfy West Coast track and surface. Likewise, Zack Genova was the driver to beat all weekend in the 4wd stock class by easily TQ'ing the class and setting a pace not to be matched in that class all weekend. During the main events Zack took an easy A-1 but a miscue in A-2 led to a brutal finish which meant A-3 would be a deciding main. Zack took an early lead, held a close battle early and stretched it for an easy A-3 victory wrapping up the 4wd stock championship. Both drivers relied on JConcepts all weekend for accessories including the control Bar Codes tires in gold compound for consistent performance.
Part 1 of the ROAR Super Nationals was completed with drivers Ryan Cavalieri, Kevin Motter, Nolan Anderson and Zack Genova taking the prestigious victories. Many of the drivers, industry insiders and media members were curious to see how well those results spilled over into the 2nd part of the program featuring Short Course and 1/8th scale. With only a 1 day break in-between events, many drivers made their way over to OCRC Raceway to test and tune and some much needed track time with a completely different genre of vehicles.
Part 2 started early on Thursday morning with controlled practice. Drivers found the slightly revamped track layout extremely challenging yet easy to drive. A slightly wetter surface and more humid building condition gave the drivers slightly more traction than part 1 and everyone was encouraged by the end of the first practice round.
Ryan Maifield, driving his JConcepts equipped SC10 4×4 Factory Team, took the 4×4 Short Course class by storm. Entering qualifying, no one knew quite what to expect from the well respected driver with limited experience in the 4×4 division but all that changed after his very first run. Straight from the outset, Ryan put down a qualifying run shocking the competition, turning in a blistering 19 lap run including sub 19 second laps which bested the field by 7 seconds. The Hi-Flow body, Hazard +3 wheels and Bar Codes tires in gold compound had a lock on the competition straight from the beginning.
During round 2, Ryan dropped the pace to turn an even faster time setting an almost unbeatable bar for the weekend. With 2 TQ runs in the books and a 3rd TQ in round 4 combined with blistering times, his SC10 4×4 was poised for the TQ position. The battle for the 2wd SCT TQ started to heat up after Maifield found his rhythm in rounds 2 and 3, narrowly taking both rounds ahead of Team Associated Teammate Ryan Cavalieri. Cavalieri came back with a brilliant round 4 and captured the tie-break placing his SC10 Factory Team up front with the AE / JConcepts combo of Maifield settling for 2nd.
Saturday morning the main events started with Ryan Maifield taking A-1 in the 4×4 SCT class by only tenths of a second over a hard charging Ty Tessman. In the 2wd stock SCT class, TQ Kevin Motter got a terrific start and pulled away for an easy A-1 victory. A-1 in the 2wd SCT class was again between the Ryan's. Maifield attempted an early pass on the back straight-away which sent him spinning and gave Cavalieri a nice gap which he held to the finish.
With loaded confidence, Maifield looked to wrap up the 4×4 Championship in A-2 and put in a great performance. Getting off to a terrific start Ryan looked unstoppable as the truck and track were completely matched to one another and pulled a nice gap on the field. Ty Tessman made a mistake allowing Maifield to take an insurmountable lead. Ryan Maifield crossed with his Team Associated / JConcepts outfitted vehicle for the first National Championship of the day. Dakotah Phend finished 2nd overall and Ty Tessman 3rd. A-2 of the SCT stock class started as usual with Kevin Motter taking the lead. A few small mistakes dropped Kevin back into the pack but with poise he once again worked his way up into the lead which he never relinquished. Kevin Motter and his JConcepts equipped SC10 FT became the 2nd champion of the day taking 1st overall.
A-2 of the 2wd SCT class featured the Ryan's battling once again for the win. This time, Maifield made a great move directly in front of the drivers stand off the small double jump and got inside the 4x IFMAR World Champion and proceeded to pull away and take the A-2 victory. Maifield looked to be directly in his element and poised to score another SCT championship. A-3 started with Cavalieri putting in 3 perfect opening laps and pulling away from the field in the early moments. Ryan Maifield holding the 2nd position was challenged very early on by Jared Tebo and the 2 drivers allowed Cavalieri to slightly break away. Maifield made his move and started to charge chipping away at the Cavalieri lead pulling within .8 tenths of a second. With only a few laps to go a slight 2 bobbles by Maifield allowed Cavalieri to open the lead just enough to take the victory and overall championship. Ryan Maifield finished 2nd and Jared Tebo 3rd.
Another fine ROAR National event wrapped up on Saturday evening with an awards presentation and victory celebration. Congratulations to the ROAR Race Management team along with Jimmy Babcock and Nick Black on running another great event. A very special thank you goes to Danny Stojakovic and the entire West Coast R/C Raceway crew on a special facility, track layout, surface and crew.
JConcepts Winning Products
0222 – Hi-Flow SCT body
3044-05 – SCT Gold Compound Bar Codes
3344B – Hazard +3mm SC10 / SC10 4×4 wheels
3016-05 – Gold Compound Bar Codes
3017-05 – Gold Compound Bar Codes
3020-05 – Gold Compound Bar Codes
0213 – Finnisher B44.1 body
0122 – Hi-Clearance rear wing
2089 – 4mm locking wheel nut – SC10 4×4 (blue)
2098 – 81T Silent Speed Spur gear
3348 – Mono 12mm hex rear wheel
3349 – Mono B44 front wheel
2163 – Monroe SC10 battery brace
2164 – SC10 rear body mount brace
3217-1 – Profiled "closed cell" inserts