2012 Reedy Truck Race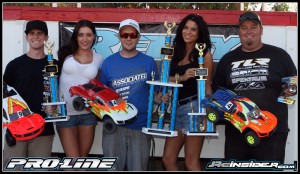 Kody Numedahl and Kevin Motter win at Reedy Truck Race with JConcepts
Event: 2012 Reedy Truck Race
Date: October 6-7, 2012
Track: Hot Rod Hobbies – Saugus, CA
JConcepts collects wins at the 2012 Reedy Truck Championships. With a beautiful California day at Hot Rod Hobbies, Jimmy Babcock and crew ran another successful event on the always fun circuit.
Pro 2 was owned by JConcepts – AE driver Kody Numedahl. From the TQ position, Kody wasted very little time to get the win in A1, and A2 to claim the Championship, along with team drivers Brian Kinwald, Billy Fischer, and Brent Calvert also making the show.
In the Stock Pro 2, Kevin Motter had to work for his win, going down to A3, and then getting a tally on the points to claim the top spot. Kevin also finished up in second in the Stock Truck class, with it also going the distance with all three triple A main events.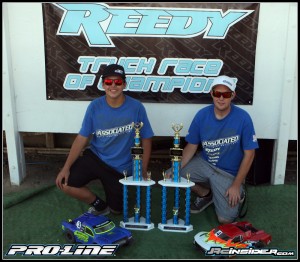 JConcepts winning products –
· 0222 Illuzion – Hi-Flow SCT body
· 3044-04 Bar Codes Rear tires – orange compound
· 3344B – +3mm Hazard Wheels for SC10
· 2158 – B4.1, T4.1 and SC10 aluminum steering bell-cranks – blue
· 2075 – 8/32″ locking wheel nut – fits B4, T4, B44 and SC10