2012 Montpellier GP – Qualifying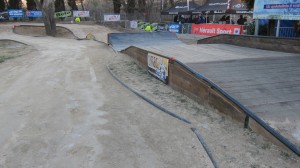 Hello from France.
Today was qualifying day here at the circuit. The format for the day was three five minute qualifiers, with the best two out of three counting for your seeding into the IFMAR semi bracket. With two strong runs, finishing with a four, and a two, Ryan Maifield sits forth, placing himself as top American. Wait, what? He is the only American.
Ryan is looking strong, as he learns the challenging surfaces, that the home town field competes on regularly. The tire of choice for us is the Crossbows, which have provided the most traction consistently. We were still testing during the qualifiers, to prepare for the hour long main event. Ryan feels confident that his choice will work best for the long race. Turning some of the quickest lap times in round two, I am looking forward to the days events and then head for some warmer weather. I miss my new hometown. Did I say it's been cold here. Yeah, yeah, yeah. That is the catch phrase of the weekend. Must be a Euro thing. Say it three times, as fast as you can, when you agree with something.
It's cold, and Ryan is going fast…Yeah, yeah, yeah.