2012 Keilor Short Course Stampede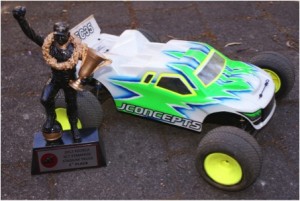 A great way to finish off the season.
Race Reporter: Leigh Cheeseman
I headed out to Keilor for their annual Short Course Stampede which also includes a Modified Stadium Truck class. This single day event is held under lights and this year attracted approximately 80 entries over the various classes.
I decided to run in the Modified Stadium Truck class and with the mercury reaching 37c degrees my orange compound bar codes were the perfect choice for the hot, high grip surface. I won all 4 rounds of qualifying and also broke the track record in the process.

Come finals time, a cold front had pushed through and the temperature had dropped to 16c degrees and the wind to changed direction. The change in wind direction meant that we would all be jumping into the wind and this was causing havoc with all vehicles. I was running the JConcepts Finnisher body shell and this enabled me to control my T4.1 in the air and prevent it from parachuting.
I changed to blue compound Bar Codes for Leg 1 of 3 and cruised to a 6 second victory over John Watkins. John won Leg 2 and I had a DNF but Leg 3 I made some small adjustments to my T4.1 for the cooler conditions and took the win. John pushed me all the way and was only 2 seconds behind at the finish. So the Top 3 were Leigh Cheeseman, John Watkins and Sam Wells.
Other winners on the night were young gun Glen Bonetti driving his JConcepts equipped SC10 and Kyle Sanders who won his first ever event in the 4wd Short Course Class.