2012 JConcepts Summer Indoor Nationals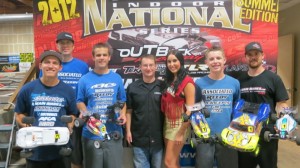 Event: 2012 JConcepts Summer Indoor Nationals
Date: July 14-15, 2012
Track: Outback Raceway – Chico, CA
2012 Summer Indoor Nationals music and highlight video
Tanner Denney, Steven Hartson and Matt Olson win at 2012 Summer Indoor Nationals with JConcepts.
The 3rd annual JConcepts Summer Indoor Nationals rolled into Outback Raceway in Chico, California. The 3rd leg of the 2012 series turned out to be a record setting event with over 250 entries packing the facility which combines Outback Raceway and partially into the A-main Hobbies Warehouse. Ruben Benitez and crew built an amazing track layout, maintained the surface with water and kept things challenging for even the best drivers in attendance. The surface just improved over the weekend as it smoothed out and the jumps began to roll and pack into place. The clay track surface produced a lot of grip an especially with the JConcepts gold compound tires. By the end of practice is was obvious that this was the biggest race ever at the Chico facility and drivers pushed hard to dial into the perfect setup.

Qualifying started with Southern California native, AE and JConcepts driver Steven Hartson getting off to a TQ run in the 2wd modified class with his JC equipped RC10B4.1, while Tanner Denney and Tyler Vik TQ'ed the 4wd and truck modified classes respectively. Cody Turner put in a great run by TQ'ing the SCT 2wd modified class. Matt Olson also started off the 4×4 SCT class with an explanation point with a first round TQ. Round 2 began with Chris Jarosz TQ'ing the round in the 2wd modified class and Curtis Door TQ'ing the 4wd modified class. John Walentia TQ'ed the modified truck class narrowly edging Brian Strange. Tanner Denney moved to the top of the stack in the SCT 2wd modified class with his JConcepts equipped SC10, while Matt Olson maintained his dominance in the 4wd SCT class with another TQ run.
As the racing rolled into the night, round 3 was decisive. Tanner Denney took full advantage of great starts and put down his best runs of the weekend. Tanner took the 2wd and 4wd modified TQ with blistering runs, running JConcepts Gold Bar Codes on both AE vehicles. Tyler Vik edged out Brent Thielke and took his 2nd TQ round in the modified truck class. John Walentia TQ'ed round 3 of the 2wd SCT modified class while Matt Olson continued to pour it on taking another TQ in the 4×4 SCT Class. With many overall TQ's still up for grabs, round 4 would weigh heavily on the drivers. Tanner Denney wrapped up overall TQ in 3 classes with round 4 TQ runs in the 2wd, 4wd and 2wd SCT modified classes. John Walentia TQ'ed the last round of modified truck and tied for overall TQ with Tyler Vik. By the virtue of faster combined times, Tyler Vik took the overall TQ. Matt Olson put a finishing touch on qualifying with his 4th straight TQ run placing himself on the pole position for Sunday afternoon.
Mains –
2wd modified was the first class to take the track and TQ Tanner Denney lined up just behind the drop-off to pursue his first win of the day. Tanner maintained a good start and held the inside line until the center off-camber section where he got slightly onto the pipe allowing Steven Hartson to slip by into the lead. Steven looked calm and cool out front as he powered down with his JConcepts equipped B4.1 WC buggy and stretched a nice lead. Tanner recovered and gained the 2nd position pretty quickly and began a charge to catch Hartson. Steven would not be denied and ran an error free 8 minute race a nearly lapped the entire field in the process. Steven crossed the finish with a well deserved 1st place, Tanner Denney took 2nd and John Walentia 3rd. Tanner and Steven both ran JConcepts Gold Bar Codes on their race buggies.
Truck modified was next up in the queue. Tyler Vik got a great start from the TQ position and maintained a steady pace up front increasing his gap to around 7 seconds. The battle was on for 2nd place between John Walentia and Brent Thielke and Brent emerged with a small cushion in 2nd. Tyler was out front cruising with his T4.1 and made very little mistakes. John closed the gap on Brent and the 2 drivers raced it out in the closing laps with Brent narrowly taking the 2nd position in a race to the finish line. Tyler Vik claimed 1st place, Brent Thielke 2nd and John Walentia 3rd.
Spectators lined the track for the start of the 4wd modified A-main. Tanner Denney made a small bobble on the first lap allowing Curtis Door and Tyler Vik by and into 1st and 2nd. Steven Hartson was collected in the pile-up and was forced to work his way up toward the front. Tanner recovered quickly and showed his speed by catching Vik and eventually moving into the lead. Denney was out front and stretching the lead and Tyler remained in 2nd until a mechanical issue forced him out. Everyone moved up including Eric Albano and Steven Hartson who had their own battle going on for the 3rd position. Back out front it was Denney stretching an even larger lead, opening quite a distance to Curtis Door who had a lock on 2nd place. The contest for 3rd heated up, Hartson avoided a turn-marshal on the last lap allowing Eric Albano to slip past taking 3rd overall. Tanner Denney crossed for a well deserved 1st place, Curtis Door 2nd and Eric Albano 3rd.
Everyone anticipated great main events but up until this point the contest for victory had been short lived. Everything changed during the 2wd SCT modified A-main where Tanner Denney got a great start and held a small lead over Cody Turner and John Walentia. Tanner made a mistake which allowed Cody to pass but within several laps it was John Walentia in the lead after crashes by Tanner and Cody opened the door for John. Tanner emerged in 2nd and attempted to catch John who was just out front and cruising. Tanner put down some great laps and got an assist as John needed some help from a turn-marshal and then the race for the lead was on. For the last 2 minutes the drivers exchanged the lead on numerous occasions and Tanner made a pass stick with very little time left which he held to the finish line for his 2nd victory of the day. John Walentia finished 2nd and Eric Albano 3rd.
The last main of the day immediately lined up, checked in and gridded. The 4×4 SCT modified drivers were off and running and Matt Olson took his usual lead and drove extremely smart up front. Steven Hartson worked his way around Chad Bradley, moved into 2nd and attempted to run down Matt Olson. Just as Steven started to look comfortable and perhaps challenge Olson, his truck went down to a mechanical problem. Olson was gone, checked out and completed the 8 minute main with few mistakes taking a well deserved 1st place. Steven Hartson fixed his issue and got back into the race to hold onto 2nd place while Jason Moberly ran smooth and consistent and finished 3rd overall. Matt equipped his MIP Pro4mance Losi SCT-E with JConcepts Pressure Points in gold compound front and rear mounted on Hazard wheels.
The trophy presentation was held with the top 3 drivers from each class receiving A-main Hobbies gift cards ranging from $75 all the way to $200 online credit toward future purchases. A large raffle was held where prizes from all contributing sponsors were handed out to many lucky winners. A very special thank you goes out to Outback Raceway, Ruben Benitez, A-Main Hobbies, Kendall Bennett and the entire crew on an outstanding event. As a group, we are all looking forward to 2013 and the 4th annual event.
JConcepts products used –
· 3016-05 Bar Codes gold compound (2wd rear)
· 3017-05 Bar Codes gold compound (2wd front)
· 3020-05 Bar Codes gold compound (4wd front)
· 3021-05 Bar Codes gold compound (truck F-R)
· 3044-05 Bar Codes gold compound (SCT rear)
· 3049-05 Pressure Points gold compound (SCT front / rear)
· 0212 Finnisher +8mm B4.1 body
· 0213 Finnisher B44.1 body
· 0216 Punisher T4.1 body
· 0222 Hi-Flow SCT body
· 0122 Hi-Clearance wing (B4.1 / B44.1)
· 2043M Advanced Formulated Tire Glue
· 2134 SC10 front clamping hex adaptor
· 2135 B4.1 front clamping hex adaptor
· 2081 SC10 rear clamping hex adaptor
· 2091 B4.1 rear clamping hex adaptor
· 2076 – 8/32″ serrated wheel nuts
· 3347 and 3348 – Mono 12mm hex wheels
· 3344B Hazard SC10 +3mm wheels
· 3352B Hazard Losi SCT-E wheels
· 2089 4mm serrated wheel nuts
· 2161 B4.1 +8mm Monroe Carbon Fiber battery brace
· 2136 5-10gm stick-on weight sets
· 2164 SC10 rear body mount brace
· Silent Speed Spur Gear for AE – 81, 84 and 87