2012 Inaugural Indoor Championship At The Track Raceway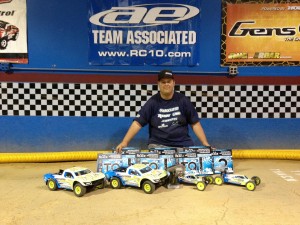 Max Flurer TQ's and wins three classes at the 2012 Inaugural Indoor Championship at The Track Raceway with JConcepts.
Event: 2012 Inaugural Indoor Championship
Date: October 12-14, 2012
Track: The Track Raceway
Gaithersburg Maryland is the location for 'The Track'. For the past several years it has been the On-Road Mecca of the East Coast, holding many large events, ROAR Regional's, and the Nationals. Now covered in dirt, the place is switching over to Off-Road and this past weekend had its first of many large Off-Road races. With over 100 entries, the Track is off to a good start. AE-JConcepts driver Max Flurer made the trip to check out the facility, along with many from the surrounding area.

After qualifying was finished, Max had the TQ in 3 of the 4 classes that he competed in for the day. The first main was 4Wheel Mod, with a battle throughout the race between TQ Gunner Rieck, AE, and AE-JConcepts driver, Mike Gay. As the top two battled, Max was able to catch up from an early mistake, in the final moments move around Mike and battle Gunner on the last lap with Gunner taking the win, Max in the number 2, and Mike 3rd.
Next up was Pro 4, where TQ Max Flurer showed how the Pressure Points in Blue compound work on the new surface, with a huge win.
Running back to back, Max set down his Pro 2 on the pole, this time with Pressure Points in the front, and Barcodes in Green on the rear wrapped around the Hazard wheel. After a first lap pile up, Max worked his way through the entire field with his Hi-Flow covered SC10, taking his second win of the day.
The final race of the day was 2Wheel Mod. Again with the TQ, Max lead from wire to wire and let the field battle for the podium, winning his third class of the day.
On Sunday, they held the 1/8 scale classes and again, Max Flurer TQ'ed and won with his JC equipped AE buggy running Black Compound Hybrids.
Product used:
3020-02 Barcodes 4Wheel front – Green
3016-02 Barcodes rear – Green
3349Y 4Wheel front wheel
0213 B44 Finnisher
3054-02 Rips – Green
3347Y B4 Front Hex Wheel
3348Y B4 Rear Hex Wheel
0212 B4 Finnisher
3049-01 Pressure Points – Blue
3044-02 Barcodes – Green
3344Y Hazard SCT Wheel
0222 Hi-Flow SCT body
3048-07 Hybrids – Black
0239 RC8.2E Finnisher