2012 Fall Classic – Updated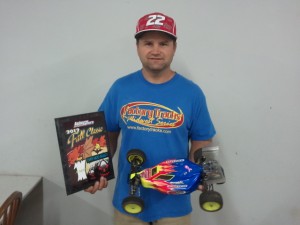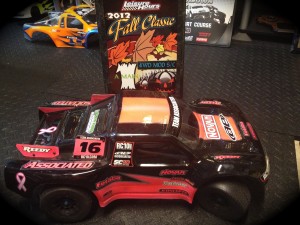 This weekend Leisure Hours Hobbies and Raceway had their Fall Classic, Breast Cancer Awareness race, it's a one day race and drew 189 entries this year!
The competition was great as there were great racers representing multiple states and manufactures. Team Associated sponsored the event and had great prizes that were raffled off to raise money for Breast Cancer Awareness, at the end of the day over a thousand dollars was raised!
JConcepts Driver Mike Nelson ran a fluorescent pink body for this special race in Pro 2 and Pro 4, after three rounds of qualifying Mike secured a fourth place starting spot in Pro 2 and second place starting spot in Pro 4. In the Pro 2 A main Mike was able to work his way up to second place but in a close battle with another racer Mike ended up with a bad corner and fell back to fifth as the competition was so close, Mike couldn't make up the ground and ended up fifth. In Pro 4 Mike had a good start and took over the lead on about the third lap, as they battled for second Mike was able to drive away and take the win, JConcepts gold Pressure Points up front and gold Bar Codes on the rear were the winning combination for tires.

JConcepts Driver Al Horne and his son Aydin also made the trip to Leisure Hours Hobbies for this event. Al dominated 2wd Mod Buggy Class, the biggest class of the event with 51 entries. Al TQ'd all three rounds of rocket style qualifying and then went on to win the main event by a 1/2 lap. Aydin finished 2nd in 4wd Mod Buggy and was 6th in 2wd Mod Buggy. Al and Aydin also ran JConcepts gold Bar Codes.