2012 Chi-Town Shootout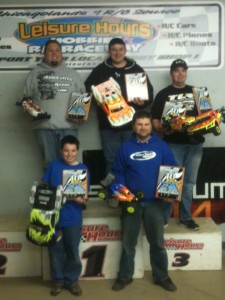 Event: 2012 Chi-Town Shootout
Dates: March 2-4, 2012
Track: Leisure Hours Raceway – Joliet, IL
Chad Due, Steven Hartson and Frank Root win big with JConcepts.
The 2012 Chi-Town Shootout was held this past weekend at Leisure Hours Raceway. Top drivers were in attendance from all over the country making for some great racing.

4wd Mod Buggy had JConcepts/Associated driver Chad Due taking the overall TQ. In the main, Chad had a bobble a couple laps in and that allowed JC/AE teammate Steven Hartson to get by and take the win by a couple of seconds.
In 2wd Mod Buggy Chad Due started 5th, TQ'ing round 3 and only having a 5th to back it up. There were actually 4 different TQ's in the Mod Buggy Class. Matt Castellano round 1, Al Horne round 2, Chad Due round 3 and Frank Root round 4. The starting order was Al Horne, Matt Castellano, Frank Root, Steven Hartson and Chad Due. Castellano and Hartson got into each other right away letting Root and Horne battle it out for a couple laps. Then Root made a pass and lead for a couple laps until he made a mistake. At that time Horne and Due were charging up on Root and his mistake put him behind. Due had a small bobble at that point which put him back about a straight from Horne. It was about mid way through the race at that point. Due charged up on Horne and when he got close and pressured him he made a mistake and Due lead out the remainder of the laps. Chad Due crossed the line just before the 6 minute mark to finish on his own with a victory lap.
SCT Modified had JConcepts/TLR driver Frank Root TQ 3 for 3 taking the overall TQ in the class. Sitting on the pole in the main, Frank took his JConcepts equipped XXX-SCT to the finish leading the entire race. Frank also took the overall TQ in Mod Truck but ended up taking second place after a battle with his TLR teammate Matt Castellano.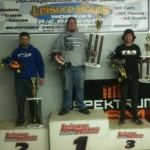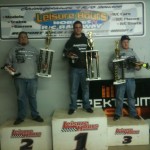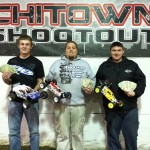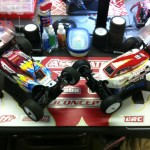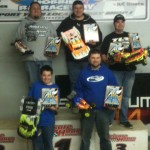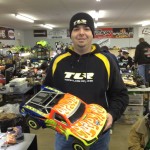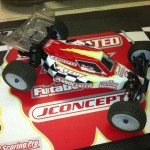 JConcepts products used
· 3016-05 Bar Codes gold compound (2wd rear)

· 3017-05 Bar Codes gold compound (2wd front)

· 3020-05 Bar Codes gold compound (4wd front)

· 3021-05 Bar Codes gold compound (1/10th truck)

· 3044-05 Bar Codes gold compound (SCT tire)

· 3049-05 Pressure Points gold compound (SCT tire)

· 0212 Finnisher +8mm B4.1 body

· 0213 Finnisher B44.1 body

· 0122 Hi-Clearance wing (B4.1 / B44.1)


· 2043M Advanced Formulated Tire Glue

· 2135 B4.1 front clamping hex adaptor

· 2091 B4.1 rear clamping hex adaptor

· 2076 – 8/32″ serrated wheel nuts

· 3347 and 3348 – Mono 12mm hex wheels

· 2089 4mm serrated wheel nuts

· Silent Speed Spur Gear for AE – 81, 84 and 87