2012 Canadian Off-Road Championships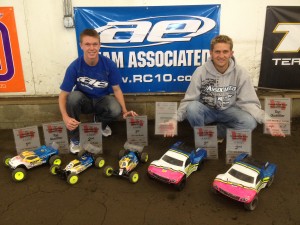 Event: 2012 Canadian Off-Road Championships
Date: July 27th, 28th, 29th
Location: Ottawa, Canada
The weather was perfect for the second annual Canadian Off-Road Champions hosted by Dynamic Hobbies and Sutton Aviation. Drivers from around the world came to the Canadian Capitol for one of the best races of the year for electric off-road. They boasted almost 300 entries with drivers like Lee Martin, the current European Champion, Tom Cockerill from UK, Scott Brown from the US and Michael Schoettler also from the US. Team Associated Scott Brown and Michael Scheottler set the early pace in the practice heats in all five classes they entered, 2WD Modified, Truck Modified, 4WD Modified, 2WD Short Course, and 4WD Short Course. With the tent covering the track it made the conditions extremely consistent. After qualifying Schoettler Took the top spot in Truck Modified and 2nd behind Lee Martin in 2WD along with a 3rd in 4WD. Scott Brown found himself on top in both Short Course classes.


In Canada they don't run the traditional triple a-main format so they run a single 6 minute a-main. The first main up was 2WD Short Course and Scott Brown lead from start to finish. He had no problem putting his Team Associated Factory Team SC10 on top after six minutes. Up next was the battle of the weekend 2WD Modified, Lee jumped out front until the first jump section and came up short allowing Schoettler to grab the lead on the first lap. After about four minutes Schoettler made a mistake on the table top turn and Lee got around him but only until he came up to the jump section again. Schoettler got back in the lead and held on for the a slim victory to take 1st in 2WD Modified. Truck Modified came up next and Schoettler was in a league of his own with his JConcepts equipped Factory Team T4.1. Schoettler took the win in Truck Modified. 4WD Short Course was up now and Scott Brown took off in the lead until about lap four when he made a costly mistake when Dave Henry was right behind him. After that there was just too much traffic and not enough time for him to catch up. Brown would have settle for the second place finish with his JConcepts equipped Team Associated FT SC10 4X4. Last one up was the 4WD Modified class where Schoettler was going to try to make it a tri fecta. Lee was too much in the 4WD class but Schoettler showed great poise and concentration to move up from that 3rd qualifying position to finish in the 2nd spot.
Schoettler ended up running JConcepts Bar Codes on all his vehicles..
2WD Modified: Blue Bar Codes Front and Rear
Truck Modifed: Blue Bar Codes Rear with Blue Carvers Front
4WD Modified: Blue Bar Codes Front and Rear
Scott Brown ran JConcepts Bar Codes on both Short Courses..
2WD Short Course: Green Bar Codes Rear and Green DD's Front
4WD Short Course: Green Bar Codes Front and Rear
Great weekend and great people up in Canada. We had a great time and will definitely be back to hangout with them again…