2011 Winter Indoor Shootout and Hillbilly Invitational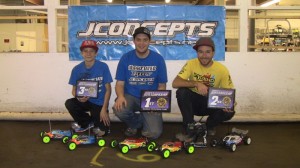 Event: 2011 Winter Indoor Shootout and Hillbilly Invitational
Date: November 19-20 , 2011
Location: Real R/C Raceway – Blue Springs, MO
Kody Numedahl pulls off an impressive overall victory in the Invitational class. Nick Gibson, Jason Porter and Mike Garrison take 4wd, 2wd open and SCT 4×4 modified classes respectively with JConcepts.
JConcepts and Steve "Hillbilly" Hale teamed up to bring a special event to Real R/C Raceway in Blue Springs, Missouri on November 19-20, 2011. Properly named the JConcepts Winter Indoor Shootout and Hillbilly Invitational took place directly in the Heartland of America. The famous track owner "Hillbilly," known for running some of the best events in the United States created a special event at his home track where several of the Midwest's finest racers do battle on a weekly basis. JConcepts / Team Associated driver Kody Numedahl and Kyosho's Jared Tebo highlighted a group of 24 invitational drivers while hometown racer Nick Gibson showed the competitive group he was a force to be reckoned with as well.

A newly opened and enlarged Real R/C Raceway provided the setting to the first annual event. Conveniently located just 25 minutes from the Kansas City airport made it just a short drive away from Blue Springs. All popular 1/10th and Short Course classes were offered, featuring 4 rounds of qualifying and extended B and A main events.
24 Hillbilly Invitational drivers were hand selected by Steve Hale himself and featured 6 rounds of 2wd on Saturday and 6 rounds of 4wd on Sunday. Invitational drivers ran the Reedy Race (Heads up) format and received a complete set of JConcepts control tires, Bar Codes, for the most equal Invitational experience. All racers were on-hand early and during check-in received an official JConcepts t-shirt with their first entry and had access to a select amount of top-shelf prizes throughout the weekend courtesy of event sponsors.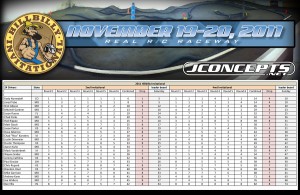 Racing got under-way on Saturday morning with 3 heats of the Invitational class and then rolled into the open class first round of qualifying. Nick Gibson jumped to the top of the field in open qualifying taking the TQ in the modified 2wd and 4wd class after 3 complete rounds on Saturday. Kody Numedahl, Jared Tebo and Rod Rippee were sitting 1st, 2nd and 3rd after 6 rounds of 2wd Invitational and Kody ran a brilliant 24 lap run earning him an all important advantage over Jared Tebo in a tie-break situation.
Sunday morning started with the 4th and final round of qualifying in the open classes and the first round for the 4wd Invitational drivers. Nick Gibson solidified TQ in the 2wd and 4wd open classes and the chase was on in the Invitational class. After 9 rounds of racing, Kody Numedahl and Jared Tebo remained in a tie for points until they met in round 10 of 4wd invitational where Jared pulled off a victory and Kody suffered his first loss of the event taking a 4 for the heat in an obvious bad run. In round 11, both drivers regained their winning form setting up a round 12 winner takes all showdown. Local drivers Nick Gibson and Mitchell Gardner jockeyed for the 3rd and 4th position while Jason Ruona and Chad Parks made a late push into the top 5 and 6 with both drivers gaining momentum setting up a battle within the top 5.
The open class 4wd A-main was up first and Nick Gibson simply checked out. His B44.1 buggy topped off with Finnisher body was on rails in the 10 minute main, easily taking the victory in a fantastic run. Colton Kiefer finished 2nd and Nate Jaskot finished in 3rd.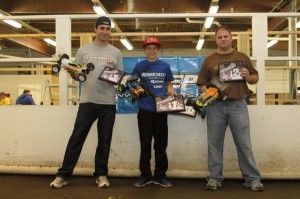 2wd open A-main quickly lined up on the grid and TQ Nick Gibson got a great start and maintained a steady lead. A few mistakes and traffic incidents moved him back into the field and Jason Porter took control of the race. Jason's style was perfect for a long main, and with smooth and consistent laps he maintained a comfortable lead all the way to the finish line. Joe Buckley ran a great race and finished 2nd and Nick Gibson recovered to finish 3rd.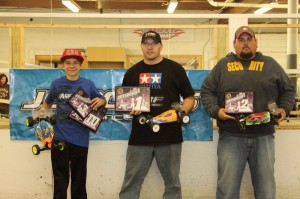 Pro 2 Modified A-main took to the track for the 10 minute A-main. Jared Tebo and Kody Numedahl sitting in the 1st and 2nd position blasted off leaving the rest of the field behind. Jared consistently maintained a comfortable pace netting quick lap-times and narrowly staying ahead of Numedahl. Toward the end of the main a mistake by Tebo left the door open for a battle to the finish. Numedahl powered down and turned the fastest lap of the race at 15.361 and pulled right up on the back of Tebo and with 1 lap to go the 2 trucks continued bumper to bumper. Approaching the finish Numedahl cased the double jump which allowed Jared the cushion to cruise to the finish-line in 1st place. Kody Numedahl finished 2nd and Chad Parks 3rd.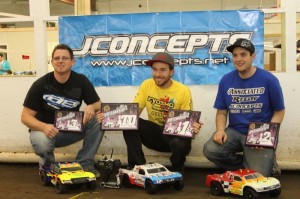 Pro 4 modified was the last open A-main of the day. TQ Michael Twilling led at the beginning of the race until an issue on lap 14 cost him valuable positions which dropped him back to 2nd and eventually 3rd. Mike Garrison was having a great main event and was turning a few sub 16 second laps while taking the lead. The Bar Codes tires, Hazard wheel and JC Raptor X-Flow body combination on the SC10 4×4 proved to be the ticket for Mike as his truck stayed smooth and consistent throughout the race. Taking the victory, Mike Garrison crossed for 1st place, Matt Gosch finished 2nd and Michael Twilling 3rd.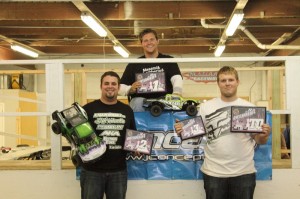 It was Invitational time again and the drivers were peaking in performance just in time for the last and final round. Heat 2 of round 12, 4wd Invitational had Jason Ruona and Chad Parks, tied in points battle it out to the end with Ruona taking his first win of the weekend and gaining the advantage over Parks earning 5th place overall.
The track was lined with spectators and families as the last race of the day hit the track. Kody Numedahl and Jared Tebo were lined up 1st and 2nd to decide the overall championship. Kody took the early lead and looked very comfortable throughout the first lap. Jared made a pass attempt as the 2 cars entered the sweeper but Kody stayed on top of the turn and maintained his lead. Coming onto the back straight-away Jared got a little wide and brushed the wall which caused a small amount of damage to his vehicle. A turn marshal quickly repaired Jared's buggy but was now a lap down to Kody who was just out front and cruising. Crossing the finish line in 1st, Kody Numedahl took the largest win of his racing career. Jared Tebo finished 2nd overall and Nick Gibson having a great weekend finished 3rd, Mitchell Gardner 4th and Jason Ruona 5th.
A huge thank you must go out to Steve "Hillbilly" Hale, Real R/C Raceway and Fastlane Hobbies on an amazing race and facility. Everyone is already looking forward to the 2nd annual event.
JConcepts products used –
· 3016-02 Bar Codes V1 green compound (2wd, 4wd rear)
· 3017-02 Bar Codes green compound (2wd front)
· 3044-01 Bar Codes blue compound (SCT)
· 3044-02 Bar Codes green compound (SCT)
· 0212 Finnisher +8mm B4.1 body
· 0213 Finnisher B44.1 body
· 0122 Hi-Clearance wing
· 0205 Raptor X-Flow SCT body
· 3217-1 Profiled closed cell SCT inserts
· 2043M Advanced Formulated Tire Glue
· 2081 SC10 rear clamping hex adaptor
· 2134 SC10 front clamping hex adaptor
· 2135 B4.1 front clamping hex adaptor
· 2091 B4.1 rear clamping hex adaptor
· 3344B Hazard +3mm 12mm hex SCT wheel
· 2076 – 8/32″ serrated wheel nuts
· 3347 and 3348 – Mono 12mm hex wheels
· 2089 4mm serrated wheel nuts
· Silent Speed Spur Gear 81, 84 and 87