2011 Turkey Cup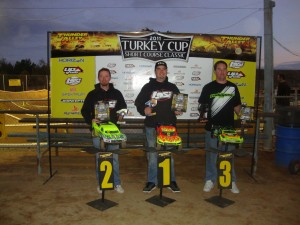 Race: 2011 Turkey Cup
Track: Thunder Alley Raceway
Dates: November 13th, 2011
Losi's Frank Root was on hand for the second annual Turkey Cup at Thunder Alley Raceway. The track layout was modified from the normal nitro configuration and was perfect for 1/10 Short Course trucks and a great day of racing was had by all.

Pro4 – Frank Root had a quick run in the first round to take the early TQ, choosing Green Subcultures for the loamy conditions. As the track started to settle in and most of the loamy dirt was moved out of the line, Frank moved to Green Double Dees front and rear for the 2nd and 3rd qualifiers. Frank had a good run in the second round, but did not improve his run until the 3rd round when he became the only vehicle to run 11 laps! Happy with the Green Double Dee tire choice in qualifying, Root decided to stick with the hot hand for the main events. When the tone went off for A1, Root got off to a great start and put in a clean lap while being chased by a 3 car freight train. Eventually, Frank would pull out a healthy lead, and cruise home for the win. A2 was much of the same, as Frank got a clean start, and stayed mistake free throughout taking the win in A2 by over 15 seconds!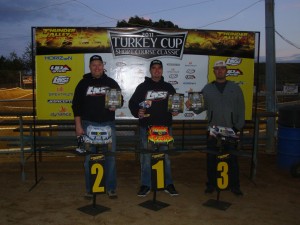 Pro2 (Modified SC) – Frank's Losi XXX-SCT equipped with the JConcepts tires was strong all day. Frank would take the TQ in the first round with a strong run on Green Double Dees front and rear. The second round saw Frank choose to run Green Subculture expecting loamy conditions being up soon after the track was watered and it worked, providing a new TQ. With the track getting better throughout the day, Frank chose to run Green Double Dees for the main events. In A1, Frank struggled with a few mistakes early in the race, falling well behind, but with some fast, clean laps, Frank would catch back up and take the win by a slim margin. Frank had a much better run in A2, leading from wire to wire and taking the overall victory!
Frank won using the following equipment:
JCO304202 SC Subcultures, Green Compound
JCO304302 SC Double Dees, Green Compound