2011 SuperCross Series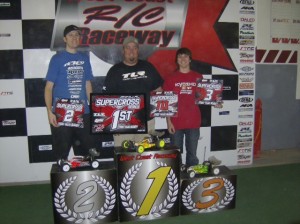 The 2011 SuperCross series was held at West Coast Raceway (host of 2011 Reedy Race of Champions) and many of the heavy hitters from around the world would at least attend a few of the 4 race series.
JConcepts driver Zack Rogers was defending champion in Mod 4wd from the year before and would put in another good run this year placing 3rd behind Mike Truhe and Brent Thielke. Zack was very happy with his Gold Barcodes along with the new JC molded foams!