2011 Super Cup – Fall Session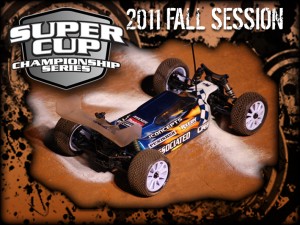 Get ready, the Fall Session of Super Cup Championship series sponsored by JConcepts is fast approaching. This is sure to be the most competitive and one of the more well attended series in recent memory. Once again the series is headed by Florida's own Mike Applegate. Be sure to have those entries in early via RCSignup so the program can run as smooth as possible on Saturday morning. We are excited to be racing at 2 new tracks this session, Race 1 be held at Shiverville Raceway in High Springs, FL.
A couple of general rules and guidelines to remember while racing in the Super Cup Series. For complete rules (same as Spring Session) visit the Super Cup website.
· All decisions by the race management crew are final.
· If you have a timing or scoring question please wait until an appropriate time to address it.
· No alcohol or drugs allowed or consumed on the premises.
· Please abide by all house rules in accordance with private or county property management.
· All tracks are typically open on Friday for practice. Please contact the track directly for specific questions regarding the Friday practice schedule.
Round 1
Shiverville Raceway High Springs, FL
Saturday – August 27th
Round 2
Coral Springs R/C Club – Coral Springs, FL
Saturday – September 24th
10500 NW 11 Manor
Coral Springs, FL 33065
www.csrccc.com
Round 3
NewRed Hobbies – Ocala, FL
Saturday – October 27th
Round 4
To be announced
Registration at the track will be $25 per class. You must pre-register ahead of time through RCSignup to get the $20 1st class price.
First class: $20.00 USD
Second class: $20.00 USD
Third class: $15.00 USD
Fourth class (and beyond): $10.00 USD
Please visit the Super Cup website for more information or Like the Super Cup page on Facebook for daily news.