2011 Off-Road Kings – Nationals Warm up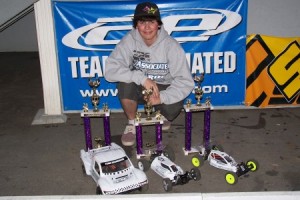 Event: 2011 Off-Road Kings
Dates: July23, 2011
Track: Nor-Cal Hobbies – Union City, CA
The Warm Up race for the 2011 ROAR Electric Off-Road Nationals was held last weekend at Nor-Cal Hobbies in Union City, CA. JConcepts team driver Eric Albano who just recently joined Team Associated, debuted all three of his new AE rides at the 2011 Kings Race. Eric took home two wins and a 2nd place!
Eric won the 2wd Modified Invite Class by taking 6 of the 8 Rounds. Eric also won the 2wd Short Course Open Class and came in 2nd in 4wd Modified Invite Class. Eric was running JConcepts Bar Codes in Orange Compound on all his vehicles and reported great tire wear and traction. Eric is only 16 years old and is a very versatile driver not only does he run Off-Road but he also runs Touring Car and is driver to watch.
Nor-Cal Hobbies will host the 2011 ROAR 1:10 Off-road Nationals coming up August 10-14, 2011.