2011 North Carolina Champ Series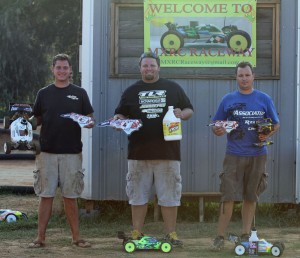 JConcepts sponsors and dominates the 2011 NCCS!!
Event: 2011 NCCS
Dates: March thru October, 2011
Race Reporter: Brandon Melton
In a long season that started in March and ended in October, JConcepts as a company and as a team were in full support of the 2011 NCCS season. The SCT classes were a new addition to this years schedule, replacing the fading 1/10 truck class from the previous 2 years. JConcepts has taken the top spot in the elite 1/8 Expert Buggy each of the previous 2 years, in 2009 with previous Team Driver Chris Pace taking top honors, and last year with Team Driver Barry Pettit standing on the top step. JConcepts would look to not only make it 3 in a row for 2011, but also expand their domination into the other classes.

The expert buggy class was once again JConcepts' playground, with everyone else just hoping to get a turn. Jason Smith wasn't on hand at the 1st round, but the format utilizes 1 drop out of 6 races, but Jason would come back strong throughout the final 5 to take several TQ honors and race wins. The confidence in equipment, utilizing the Punisher body and assortment of championship caliber tires, combined with great driving, gave Jason the edge to hold off the competition and take home the gold. Jason's stellar season would give JConcepts the hat trick for the Expert 1/8 Buggy, remaining undefeated in the NCCS.
Max Flurer came onto the scene strong this year with new terms from AE and JConcepts, proving that anybody who wants to win in electric racing throughout the Carolinas will have to go through him. All year, racers were amazed at the speed and traction level that Max achieved with his JConscepts SCT tires, laying down laps in the 2wd class that rivaled the 4wd lap times. Max took a convincing overall win in both the 2wd SCT class and the 1/8 Electric buggy class. John McGinty also had a great year in E-Buggy taking home the runner up spot using JConcepts to outfit his buggy, giving the team a 1-2 punch in the electric buggy division.
The NCCS would like to thank JConcepts for another year of support and congratulate them for a third championship season in a row. As the JC product line grows and expands, look for more winning products to come to a track near you in the Carolinas!!