2011 NC Champ Series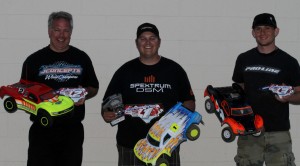 Round 3 of the 2011 NC Champ Series is coming up this weekend. The Short Course class has been dominated by JConcepts so far and JConcepts Team Driver John Piant is ready for another winning weekend running his JConcepts equipped SC10.
Here is a recap from Round 2…
The NC Champ Series was in King, NC for Mod SCT round two and was once again swept with JConcepts. With the largest turn out to date, it was back to a two round qualifying program, so that the mains could be run before sunset.

At the tone, for the Mod Short Course A main, Top Qualifier John Piant took his JConcepts Raptor wrapped SC10 with Bar Codes in green compound, to the point. Followed by local driver, Adam Smith, also using Bar Codes and a JConcepts body. Smith had trouble in the first lap on the large table top on the back stretch, and got shuffled back. On the fourth lap, Piant bobbled in the tricky triple-double section and handed the lead to round one winner, Max Fluer. On the next lap, Fluer wrecked on the back table top, allowing Piant to catch up.
On to the middle segment of the race. Adam Smith strung together some quick laps to move through the pack into third and distance himself from the tight battle for fourth, and fifth. For the last five minutes, Max and John traded quick laps. Keeping the gap from ten feet, to over a second. As it yo-yo' d back and forth Piant was caught at the line on the buzzer. Giving Max a victory lap.
In the end, the podium was Max Fluer first, John Piant, and Adam Smith. All using JConcepts tires front and rear.