2011 JConcepts Clash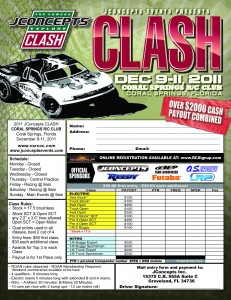 The 2011 JConcepts Clash is fast approaching. The 5th annual event will take place in Coral Springs, Florida, December 9-11, 2011 on a newly built and lengthened race track especially for the annual event. With the uniqueness of the Clash, special considerations are always made to the layout, making it both electric and nitro friendly; rest assured your vehicle of choice will be tested. Be prepared for a well run race courtesy of the JConcepts Events crew in conjunction with race director Nick Black from California's famed OCRC Raceway.
The Clash has always been one of the more spectacular events in Florida drawing entries from all parts of the world. Racers such as Ryan Maifield, Ryan Cavalieri, Jared Tebo, Lee Martin, JR Mitch, Steven Hartson, Tanner Denney, Brent Thielke, Barry Pettit, Billy Easton, Ryan Eckert, Jason Ruona and Paul Wynn have always made racing fast and exciting at the Clash throughout the years. For the 5th annual event, the competition should be more fierce than ever, in what has turned out to be one of the most entertaining and cross promoting events in the world.

The 2008 event held at this exact location attracted the largest turnout in the 4 year history of the event making it a desirable location. Coral Springs is conveniently close to the Ft. Lauderdale International Airport and within a 40 minute drive to Miami's South Beach and surrounding local area attractions. Make reservations now for the 2011 JConcepts Clash, "Where the Powers Explode."
Racers will receive an official 5th annual JConcepts Clash t-shirt with their first entry and have access to a select amount of top-shelf prizes throughout the weekend courtesy of event sponsors. 2011 Clash is also a Cash payout event with winning drivers in each class receiving the designated payout as indicated on the entry form.
Reserve the dates, book the trip and signup via RCSignup for the 2011 JConcepts Clash today. Stay up-to-date by visiting the 2011 Clash on Facebook or by visiting rcclash.com
2011 JConcepts Clash – location address
Coral Springs R/C Car Club
10500 NW 11 Manor
Coral Springs, FL, US 33065