2010 Keilor Cup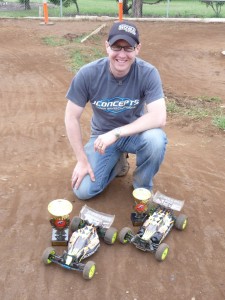 Event: 2010 Keilor Cup (Final Round of 2010 ORRCA Victoria Drivers Series)
Track: Keilor, Melbourne, Australia
Reporter: Ray Munday
JConcepts continues it's domination down under with Ray Munday taking the 2wd and 4wd 2010 ORRCA Victorian Drivers Series Titles following the final round held at the Keilor track in Melbourne, Australia. Ray TQ'd and finished 1st in 2wd to make it a clean sweep, while a 2nd place in 4wd was enough to take the title as well. The 2010 series was well supported by racers in the area with 147 entries.
The Keilor event is typically a very high traction blue groove track were most drivers use JConcepts Barcodes, however heavy unseasonal rain the day before the event turned the track into a muddy mess. Hard work by all racers on Saturday afternoon and Sunday morning meant that racing was still able to take place, with a surface that started off very heavy but ended up with a cool groove by the end of the day giving good traction with minimal tire wear.

There was a JConcepts tire to suit all the track conditions experienced in the day, with Ray starting off on Goosebumps, moving to Flip Outs and finishing up with Double Dees by the end of the day. Many racers also chose JConcepts tires to master the ever-changing track conditions.
2wd Modified buggy qualifying was a clean sweep for Ray. His Novak powered B4.1 was unstoppable in all three rounds. Finishing 2nd in all 3 rounds was Ben Sterling, backing up his recent form with strong results. Rudy Rizkalla impressed many by qualifying 3rd with young gun Logan Symes in 4th.
The track was starting to groove up by mains time Ray chose to go with a JConcepts DD's to account for the changing track conditions. Ray used his TQ position to good advantage by winning all 3 mains to continue his unbeaten record in 2wd at this track. Ben Sterling kept Ray honest with 2nd positions in all 3 finals, while Logan Symec continued his ascent in the mod class by finishing a fine 3rd. Rudy Rizkalla and Pete 'Wookie' Wooster rounded out the top 5.
4wd Modified Buggy went down to the final main after a tough series of finals. In A1, Ray managed to get by Ben Sterling on lap 1, but Ben took the lead on Lap 6 with a great move and held on to win by just over 1s. In A2, it was a reversal of qualifying. Ben led from the start but a crash at 2:30 let Ray past, coming home for the win with an 11 lap run. A3 was a close race with Ray leading after 2 minutes, but a small bobble let Ben past. Coming into the last lap there was less than a second between them, Ben eventually bringing it home to take a well deserved first win in the ORRCA Vic series. Rudy Rizkalla completed the podium, followed by a strong 4th from Neil Kovacs and Logan Symes in 5th.
Products Used/Notable Happenings:
B4 Hi-Flow Illuzion Body,
B44 Hi-Flow Illuzion Body
6.5″, 7″ Wings, B4 Front Scoop
B4/B44/T4 Rulux Rims
Green Compound Flip Outs
Green Compound Groovys
Green Compound Double Dees