1st Annual JConcepts Scaler Fest – Coming Soon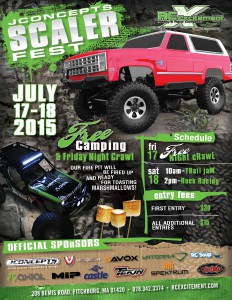 JConcepts and RC Excitement have teamed up along with many fine sponsors to put on a Scaler Event not to miss.
The 1st annual JConcepts Scaler Fest will take place July 17-18 and include free camping Friday night along with a free Friday Night Crawl. Spend the evening roasting marshmallows on the fire pit and get some night crawling in.
On Saturday the event kicks off at 10am with a Trail Jam and at 2pm get ready for some Rock Racing. RC Excitement is located in Fitchburg, Massachusetts and further details can be found on their website and Facebook page.
Don't miss it!