1st Annual Florida Spring Fling
Event: 1st Annual Spring Fling
Date: April 8-10, 2011
Location: The RC Asylum, Waverly Florida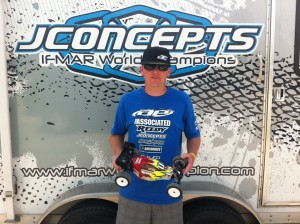 Last weekend racers from all over the state of Florida gathered in Waverly, FL for the first annual Spring Fling. With temperatures in the 90's it was hard to remember that it was spring. Classes ranging from Stock buggy to Electric Truggy, there was a class for anyone that wanted to run an electric class. JConcepts was well represented with many of our fastest electric drivers attending the race to see who would come out on top. Open practice began on Friday, the track began to show a nice blue groove. With practice running late into the night, many drivers felt confident for Saturdays qualifying.

With four rounds of qualifying all taking place on Saturday to seat the triple A main format, everyone was driving hard to secure one of the 12 A main starting positions. The first cars to roll off onto the track were the ultra competitive Stock 2wd buggy and truck. With the field so close Corey Parsons was able to hold off Daimon Borkowicz and Jeff Harris to capture the TQ in both classes. In Open 2wd buggy JConcepts Team Driver JR Mitch showed he was the man to beat by TQ'ing all four rounds of qualifying. In 4wd Open buggy JConcepts Team Driver Zack Genova TQ'ed laying down the fastest laps of the weekend.
Top Qualifiers
4wd SCT Open- Ricky Layman
2wd SCT Stock- John Bernard Jr.
2wd SCT Open- Chad Olcott
2wd Truck Stock- Corey Parsons
2wd Truck Open- Dan Borkowicz
2wd Buggy Stock- Corey Parsons
2wd Buggy Open- JR Mitch
4wd Buggy Open- Zack Genova
1/8th Scale E Truggy- Hayden Jolly
1/8th Scale E Buggy- Walter Cruz
Sunday brought excitement with the Triple A main format being used. With the sun shinning bright through the up stairs windows, Stock 2wd buggy sat ready to go on the grid. With the track starting to groove up even more many drivers were using JConcepts Green Double Dee's or Blue Bar Codes, to attack the track. In Stock buggy and truck Corey Parsons showed that he wasn't going to be beat, as he went on to dominate both stock classes by winning A1 and A2. Jeff Harris would end up in second, while Daimon Borkowicz would take second in truck. In Stock SCT John Bernard Jr. would win all three A mains on his way to the overall title. In 2wd Open buggy JR Mitch would use his TQ starting position to capture the first two A mains and take the overall title. JR used JConcepts Green Double Dee's in both mains. Some of the best racing of the day came out of the 4wd buggy class. Brent Kingsbury and Zack Genova put on a show in the first A main with Genova taking the win. Kingsbury would storm back to take the second A main with Genova just a second behind him. In the third main Genova would suffer motor problems allowing Kingsbury to take the win and overall title. Both drivers used JConcepts Double Dee's the entire weekend.
Podium Drivers
4wd SCT open
1st Ricky Layman
2nd Doug Dragotta
3rd Shea Peterson
2wd SCT Stock
1st John Bernard Jr.
2nd Billy Bruce
3rd Kory Ferguson
2wd SCT Open
1st Chad Olcott
2nd Billy Bruce
3rd Ricky Layman
2wd Truck Stock
1st Corey Parsons
2nd Daimon Borkowicz
3rd Walter Cruz
2wd Truck Open
1st Dan Borkowicz
2nd Caleb Ohara
3rd Andy Darby
2wd Buggy Stock
1st Corey Parsons
2nd Jeff Harris
3rd Daimon Borkowicz
2wd Buggy Open
1st JR Mitch
2nd Zack Genova
3rd Brett Kingsbury
4wd Open Buggy
1st Brett Kingsbury
2nd Zack Genova
3rd Sherwin Diaz
1/8th Scale E Truggy
1st Hayden Jolly
2nd Chad Olcott
3rd Bill Blakesly
1/8th Scale E Buggy
1st Walter Cruz
2nd Shea Peterson
3rd Eric Varney
One of the highlights to this great race was the raffle. After the first round of A mains, the track took about an hour to give away thousands of dollars in prizes and gift certificates. With many car kits and other large prizes, many people left with huge smiles and full hands. Congratulations to all of the winners on and off the track and thanks goes to the crew at the Asylum.