11th Annual Lake Erie Shootout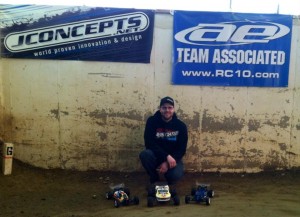 Brandon Marsh sweeps the Mod classes at the 11th Annual Lake Erie Shootout with JConcepts.
Event Name: 2014 Lake Erie Shootout
Event Location: ARCS – Ashtabula, OH
Event Dates: March 28 – 30, 2014
During the weekend of March 28th, Ashtabula R/C Speedway hosted their 11th annual Lake Erie Shootout. This year's event had exciting racing in all classes with just over 100 entries. JConcept drivers Brandon Marsh and Eric Clark were in attendance and competing in the Modified 2wd buggy, Modified 4wd buggy, and Modified truck classes.

Qualifying consisted of four rounds, taking the best three of four rounds. In the 2wd class, Brandon was able to grab the TQ of the first three rounds to secure the overall TQ early. Similarly in the 4wd class, he was able to TQ three out of four rounds to secure the overall TQ as well. In the Truck class, it was Eric grabbing the TQ position after having TQ'd two rounds, and a second overall in another round.
The mains on Sunday afternoon were single 7-minute A's, taking seven and one bump up. In 2wd Brandon drove is JConcepts equipped RC10B5M on green compound Dirt Webs/Pressure Points to victory. Brandon also dominated the 4wd class, taking the overall win with his JConcepts equipped Factory Team B44.2 running green compound Dirt Webs. In the truck class, It was Eric leading the race until a unfortunate event forced him to retire early from the seven minute main. However, Brandon was able to work his way to the front, and after a hard fought battle with second place qualifier Brent Wilks he was able to grab his 3rd win of the event running green compound Pressure Points on his JConcepts equipped Factory Team T4.2.