10th Annual East Coast Race Against Cancer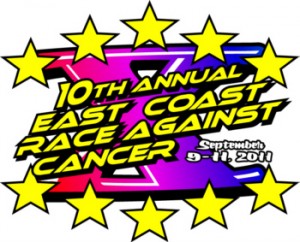 Event: East Coast Race Against Cancer
Dates: Sept. 9-11, 2011
Track: McColloughs R/C Racing Club
McColloughs R/C Racing Club in Sarver, PA. had their 10th annual Race Against Cancer event. The goal this year was to raise $10,000 for the 10th anniversary of this popular race. They managed to raise $11,000 with 175 entries with lots of give aways and raffles through out the weekend all to help the American Cancer Society.

The forecast was calling for rain on and off all weekend. They still managed to get in 4 rounds of qualifying and full mains Sunday. The track stayed wet all weekend but held up great thanks to the hard work of the track crew all weekend long.
JConcepts Team Driver Jamie Grayek managed to TQ and finished 2nd overall in the Pro Buggy Class, missing the win by 1 sec on the last lap in the 30 minute A-main. Jamie ran JConcepts Subcultures in Green for the qualifiers and switched to Hybrids in Green for the Mains.