1/10th Off-Road Tire Releases – Bar Codes V2
1/10th off-road tire releases – Bar Codes V2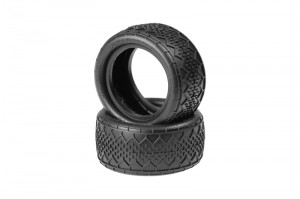 The Code of Silence has been broken at JConcepts, and the Bar Codes V2 tire are out. The Bar Code design is the freshest new tire design from JConcepts racing development and regardless of class and scale the Bar Codes = top notch performance. Like the name suggests the alternating bar design combined with the addition of the Y side bars provide uncompromised support for blue and black groove conditions as well as wet track indoor conditions. Available in Soft, Super Soft and Indoor Soft compounds the Bar Codes are a specialty tire that when matched to the appropriate track can provide amazing results.
The Bar Codes are a part of the JConcepts special breed of tire, designed for maximum performance when new or used as the design allows even wear all the way down to the tire body. Bar Codes in new condition excel on hard surfaces that have taken rubber with either dry or wet grooved conditions. Worn Bar Codes excel on indoor or outdoor clay tracks where a minimal dust groove has formed.
JConcepts now has the ultimate 1,2 punch by offering the V1 and V2 Bar Codes in a variety of compounds for tuning precision.
Features:
Available in Soft (Blue), Super Soft (Green), and Indoor Soft (Gold) compounds.
Compact tire body with crisp tread and separation
Aggressive Bar Code design
Includes firm And-1 inserts
Bar Codes V2 – (soft) blue compound
Part # – 3033-01
UPC Code – 845937005557
Retail price – $16.00
(fits 1/10th buggy rear wheel)
Bar Codes V2 – (super soft) green compound
Part # – 3033-02
UPC Code – 845937005106
Retail price – $16.00
(fits 1/10th buggy rear wheel)
Bar Codes V2 – (indoor soft) gold compound
Part # – 3033-05
UPC Code – 845937005113
Retail price – $16.00
(fits 1/10th buggy rear wheel)
Bar Codes V2 – green compound (pre-mounted B4, B44, XXX rear)
Part # – 3033-1220
UPC Code – 845937005632
Retail price – $25.00
(fits B4,B44, XXX rear)